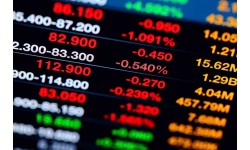 Oconee Federal Financial (NASDAQ:OFED – Get Rating) was downgraded by research analysts at TheStreet from a "b" rating to a "c+" rating in a report released on Monday, TheStreetRatingsTable reports.
OFED stock opened at $24.50 on Monday. Oconee Federal Financial has a one year low of $20.12 and a one year high of $27.00. The stock has a fifty day moving average of $24.55. The company has a debt-to-equity ratio of 0.06, a current ratio of 0.78 and a quick ratio of 0.78. The stock has a market capitalization of $136.71 million, a P/E ratio of 37.12 and a beta of 0.64.
Oconee Federal Financial (NASDAQ:OFED – Get Rating) last released its earnings results on Friday, February 11th. The savings and loans company reported $0.22 EPS for the quarter. Oconee Federal Financial had a net margin of 21.10% and a return on equity of 4.30%. The firm had revenue of $4.38 million for the quarter.
In related news, EVP Charles Todd Latiff sold 1,800 shares of the business's stock in a transaction on Monday, March 21st. The shares were sold at an average price of $26.30, for a total value of $47,340.00. The sale was disclosed in a legal filing with the SEC, which is accessible through
this link
. 5.88% of the stock is currently owned by insiders.
An institutional investor recently bought a new position in Oconee Federal Financial stock. Millennium Management LLC acquired a new stake in shares of Oconee Federal Financial Corp. (NASDAQ:OFED – Get Rating) during the second quarter, according to the company in its most recent filing with the Securities and Exchange Commission (SEC). The fund acquired 21,663 shares of the savings and loans company's stock, valued at approximately $506,000. Millennium Management LLC owned about 0.39% of Oconee Federal Financial as of its most recent SEC filing. 0.96% of the stock is currently owned by hedge funds and other institutional investors.
Oconee Federal Financial Company Profile (Get Rating)
Oconee Federal Financial Corp. is a holding company, which engages in the provision of financial services. It offers services related to personal banking, business banking, and mortgage lending. The company was founded on January 01, 2011 and is headquartered in Seneca, SC.
Further Reading
Receive News & Ratings for Oconee Federal Financial Daily - Enter your email address below to receive a concise daily summary of the latest news and analysts' ratings for Oconee Federal Financial and related companies with MarketBeat.com's FREE daily email newsletter.