Newron Pharmaceuticals S.p.A. (OTCMKTS:NWPHF – Get Rating) – Analysts at Edison Inv. Res issued their FY2023 earnings per share (EPS) estimates for shares of Newron Pharmaceuticals in a research note issued to investors on Thursday, September 15th. Edison Inv. Res analyst S. Romanoff anticipates that the company will post earnings of ($0.92) per share for the year.
Newron Pharmaceuticals Stock Performance
Shares of Newron Pharmaceuticals stock opened at $2.10 on Monday. The business's fifty day moving average price is $2.10 and its two-hundred day moving average price is $2.10. The company has a quick ratio of 10.79, a current ratio of 10.79 and a debt-to-equity ratio of 13.69. Newron Pharmaceuticals has a 1-year low of $2.10 and a 1-year high of $2.10.
Newron Pharmaceuticals Company Profile
(
Get Rating
)
Newron Pharmaceuticals S.p.A., a clinical stage biopharmaceutical company, focuses on the research and development of therapies for the treatment of central and peripheral nervous system, and pain in Italy and the United States. The company offers Xadago (safinamide) for the treatment of Parkinson's disease, as well as develops Xadago for the treatment of levodopa induced dyskinesia.
Further Reading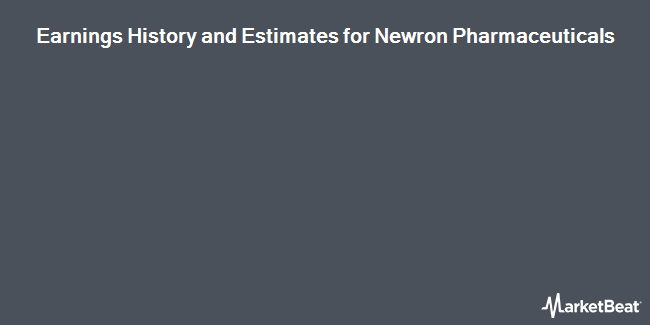 Receive News & Ratings for Newron Pharmaceuticals Daily - Enter your email address below to receive a concise daily summary of the latest news and analysts' ratings for Newron Pharmaceuticals and related companies with MarketBeat.com's FREE daily email newsletter.