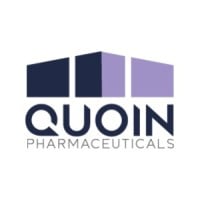 Quoin Pharmaceuticals, Ltd. (NASDAQ:QNRX – Get Rating)'s stock price was down 4.3% on Thursday . The stock traded as low as $1.53 and last traded at $1.55. Approximately 35,638 shares changed hands during mid-day trading, a decline of 65% from the average daily volume of 102,446 shares. The stock had previously closed at $1.62.
Quoin Pharmaceuticals Price Performance
The company's 50 day moving average price is $1.61 and its two-hundred day moving average price is $3.16.
Quoin Pharmaceuticals (NASDAQ:QNRX – Get Rating) last released its quarterly earnings data on Thursday, November 10th. The company reported ($0.94) earnings per share (EPS) for the quarter, topping the consensus estimate of ($2.90) by $1.96. As a group, research analysts anticipate that Quoin Pharmaceuticals, Ltd. will post -5.03 EPS for the current year.
Institutional Investors Weigh In On Quoin Pharmaceuticals
Several hedge funds and other institutional investors have recently bought and sold shares of QNRX. Virtu Financial LLC acquired a new stake in Quoin Pharmaceuticals during the first quarter worth about $57,000. Renaissance Technologies LLC increased its position in Quoin Pharmaceuticals by 28.8% during the second quarter. Renaissance Technologies LLC now owns 64,932 shares of the company's stock worth $29,000 after purchasing an additional 14,532 shares during the last quarter. Finally, Jane Street Group LLC acquired a new stake in Quoin Pharmaceuticals during the third quarter worth about $26,000. 12.05% of the stock is currently owned by institutional investors and hedge funds.
Quoin Pharmaceuticals Company Profile
Quoin Pharmaceuticals Ltd. is a specialty pharmaceutical company engaged in the development of therapeutic products for the treatment of rare and orphan diseases. The company was founded on March 5, 2018 and is headquartered in Kefar Sava, Israel.
Featured Articles
Receive News & Ratings for Quoin Pharmaceuticals Daily - Enter your email address below to receive a concise daily summary of the latest news and analysts' ratings for Quoin Pharmaceuticals and related companies with MarketBeat.com's FREE daily email newsletter.