Shares of Eutelsat Communications S.A. (OTCMKTS:ETCMY – Get Rating) have earned an average recommendation of "Hold" from the seven brokerages that are covering the stock, Marketbeat reports. Two analysts have rated the stock with a sell recommendation, three have assigned a hold recommendation and one has assigned a buy recommendation to the company. The average 12-month price objective among analysts that have covered the stock in the last year is $10.21.
A number of brokerages have weighed in on ETCMY. Credit Suisse Group reduced their price objective on Eutelsat Communications from €10.70 ($11.63) to €9.70 ($10.54) and set a "neutral" rating for the company in a research note on Thursday, October 13th. Morgan Stanley reduced their price objective on Eutelsat Communications from €13.00 ($14.13) to €11.00 ($11.96) in a research note on Monday, November 28th.
Eutelsat Communications Trading Up 2.1 %
Shares of OTCMKTS ETCMY opened at $1.95 on Monday. Eutelsat Communications has a twelve month low of $1.81 and a twelve month high of $3.30. The stock has a 50 day moving average of $1.99 and a two-hundred day moving average of $2.18.
Eutelsat Communications Cuts Dividend
The business also recently announced a dividend, which was paid on Monday, January 2nd. Stockholders of record on Friday, November 18th were issued a $0.1726 dividend. This represents a dividend yield of 7.13%. The ex-dividend date of this dividend was Thursday, November 17th.
Eutelsat Communications Company Profile
Eutelsat Communications SA engages in the operation of telecommunication satellites. It provides video services, such as broadcast DTH, distribution, HD and ultra HD channels, and occasional use services; connectivity services; and Internet of Things and low earth orbit solutions. The company offers its services under the Eutelsat brand directly and through distributors.
Further Reading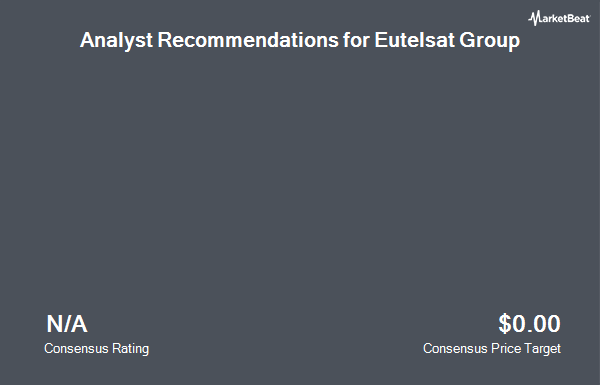 Receive News & Ratings for Eutelsat Communications Daily - Enter your email address below to receive a concise daily summary of the latest news and analysts' ratings for Eutelsat Communications and related companies with MarketBeat.com's FREE daily email newsletter.