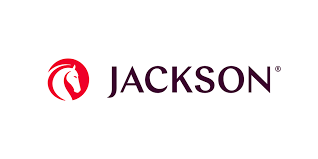 Jackson Financial Inc. (NYSE:JXN – Get Rating) – Equities research analysts at Jefferies Financial Group lowered their Q1 2024 earnings estimates for Jackson Financial in a report released on Thursday, March 2nd. Jefferies Financial Group analyst S. Kamath now expects that the company will post earnings per share of $4.58 for the quarter, down from their previous estimate of $4.82. Jefferies Financial Group has a "Buy" rating and a $55.00 price target on the stock. The consensus estimate for Jackson Financial's current full-year earnings is $17.68 per share. Jefferies Financial Group also issued estimates for Jackson Financial's Q2 2024 earnings at $4.65 EPS, Q3 2024 earnings at $4.78 EPS, Q4 2024 earnings at $4.86 EPS, FY2025 earnings at $20.95 EPS and FY2026 earnings at $23.45 EPS.
Jackson Financial (NYSE:JXN – Get Rating) last released its earnings results on Tuesday, February 28th. The company reported $5.66 EPS for the quarter, beating the consensus estimate of $5.39 by $0.27. The business had revenue of $1.87 billion during the quarter, compared to analyst estimates of $1.41 billion. Jackson Financial had a net margin of 42.47% and a return on equity of 14.29%. The business's quarterly revenue was down 10.9% on a year-over-year basis. During the same period in the prior year, the business earned $7.48 earnings per share.
Several other equities research analysts have also recently weighed in on JXN. Morgan Stanley raised their price objective on shares of Jackson Financial from $39.00 to $40.00 and gave the company an "equal weight" rating in a research report on Tuesday, January 10th. Evercore ISI lifted their price target on shares of Jackson Financial to $38.00 in a research note on Wednesday, November 16th.
Jackson Financial Price Performance
NYSE JXN opened at $44.10 on Monday. The company has a current ratio of 0.37, a quick ratio of 0.37 and a debt-to-equity ratio of 0.45. Jackson Financial has a 1 year low of $23.56 and a 1 year high of $49.60. The company has a fifty day simple moving average of $41.71 and a 200 day simple moving average of $36.47. The company has a market cap of $3.66 billion, a P/E ratio of 0.70 and a beta of 1.67.
Jackson Financial Increases Dividend
The firm also recently announced a quarterly dividend, which will be paid on Thursday, March 23rd. Stockholders of record on Tuesday, March 14th will be given a dividend of $0.62 per share. The ex-dividend date of this dividend is Monday, March 13th. This is a positive change from Jackson Financial's previous quarterly dividend of $0.55. This represents a $2.48 annualized dividend and a dividend yield of 5.62%. Jackson Financial's dividend payout ratio (DPR) is currently 3.47%.
Institutional Investors Weigh In On Jackson Financial
Several large investors have recently made changes to their positions in JXN. Natixis purchased a new stake in Jackson Financial in the 4th quarter worth about $219,000. Macquarie Group Ltd. purchased a new stake in Jackson Financial in the 4th quarter worth about $1,880,000. Truist Financial Corp increased its holdings in Jackson Financial by 41.1% in the 4th quarter. Truist Financial Corp now owns 24,626 shares of the company's stock worth $857,000 after acquiring an additional 7,178 shares during the last quarter. DZ BANK AG Deutsche Zentral Genossenschafts Bank Frankfurt am Main purchased a new position in Jackson Financial during the 4th quarter valued at about $833,000. Finally, Asset Allocation Strategies LLC purchased a new position in Jackson Financial during the 4th quarter valued at about $312,000. 82.40% of the stock is owned by hedge funds and other institutional investors.
About Jackson Financial
Jackson Financial Inc, through its subsidiaries, primarily provides a suite of annuities to retail investors in the United States. The company operates through three segments: Retail Annuities, Institutional Products, and Closed Life and Annuity Blocks. The Retail Annuities segment offers various retirement income and savings products, including variable, fixed index, fixed, and immediate payout annuities, as well as registered index-linked annuities and lifetime income solutions.
Featured Stories
Receive News & Ratings for Jackson Financial Daily - Enter your email address below to receive a concise daily summary of the latest news and analysts' ratings for Jackson Financial and related companies with MarketBeat.com's FREE daily email newsletter.