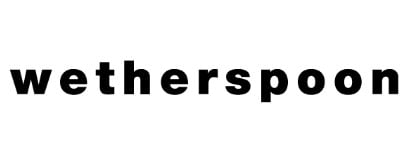 J D Wetherspoon plc (LON:JDW – Get Rating)'s stock price crossed above its 200-day moving average during trading on Wednesday . The stock has a 200-day moving average of GBX 476.43 ($5.73) and traded as high as GBX 611 ($7.35). J D Wetherspoon shares last traded at GBX 581.50 ($6.99), with a volume of 501,479 shares.
Analysts Set New Price Targets
Separately, Shore Capital reaffirmed a "hold" rating on shares of J D Wetherspoon in a research report on Wednesday, November 9th.
J D Wetherspoon Stock Down 2.1 %
The firm has a 50 day moving average price of GBX 501.02 and a 200-day moving average price of GBX 476.43. The company has a current ratio of 0.30, a quick ratio of 0.19 and a debt-to-equity ratio of 437.31. The firm has a market cap of £748.68 million, a PE ratio of 3,876.67, a PEG ratio of 3.39 and a beta of 1.32.
Insider Buying and Selling
In other J D Wetherspoon news, insider Timothy (Tim) Martin bought 2,600,000 shares of the firm's stock in a transaction that occurred on Wednesday, February 1st. The stock was purchased at an average price of GBX 457 ($5.50) per share, for a total transaction of £11,882,000 ($14,288,119.29). Insiders acquired a total of 2,600,060 shares of company stock worth $1,188,229,844 over the last 90 days. 28.15% of the stock is owned by insiders.
J D Wetherspoon Company Profile
J D Wetherspoon plc owns and operates pubs and hotels in the United Kingdom and the Republic of Ireland. It operates 852 pubs. The company was founded in 1979 and is based in Watford, the United Kingdom.
Further Reading
Receive News & Ratings for J D Wetherspoon Daily - Enter your email address below to receive a concise daily summary of the latest news and analysts' ratings for J D Wetherspoon and related companies with MarketBeat.com's FREE daily email newsletter.