Squarespace (NYSE:SQSP – Get Rating) had its target price hoisted by Bank of America from $32.00 to $36.00 in a research report sent to investors on Wednesday, The Fly reports. They currently have a buy rating on the stock.
A number of other research analysts have also recently weighed in on SQSP. Citigroup assumed coverage on shares of Squarespace in a research report on Tuesday, December 13th. They set a neutral rating and a $21.00 price target on the stock. Wolfe Research started coverage on shares of Squarespace in a research report on Thursday, January 5th. They set a peer perform rating on the stock. Piper Sandler raised shares of Squarespace from a neutral rating to an overweight rating and upped their price target for the company from $22.00 to $30.00 in a report on Monday, November 21st. Credit Suisse Group cut their price target on shares of Squarespace from $25.00 to $24.00 and set a neutral rating on the stock in a report on Wednesday, November 9th. Finally, KeyCorp lowered their target price on shares of Squarespace from $25.00 to $22.00 and set an overweight rating for the company in a research note on Wednesday, November 9th. Nine investment analysts have rated the stock with a hold rating and five have assigned a buy rating to the stock. Based on data from MarketBeat.com, Squarespace presently has a consensus rating of Hold and an average target price of $28.36.
Squarespace Stock Down 1.1 %
Shares of SQSP stock opened at $27.25 on Wednesday. Squarespace has a fifty-two week low of $14.43 and a fifty-two week high of $30.69. The firm's 50 day moving average price is $23.10 and its two-hundred day moving average price is $21.89.
Insider Buying and Selling
In other Squarespace news, General Counsel
Courtenay O'connor
sold 21,801 shares of the stock in a transaction on Friday, February 24th. The stock was sold at an average price of $23.14, for a total transaction of $504,475.14. Following the completion of the transaction, the general counsel now directly owns 38,216 shares in the company, valued at $884,318.24. The transaction was disclosed in a filing with the Securities & Exchange Commission, which is accessible through
this hyperlink
. 45.51% of the stock is owned by company insiders.
Institutional Trading of Squarespace
A number of hedge funds and other institutional investors have recently added to or reduced their stakes in the company. Itau Unibanco Holding S.A. bought a new position in Squarespace during the third quarter worth about $26,000. Point72 Middle East FZE bought a new stake in Squarespace in the 4th quarter valued at approximately $30,000. Captrust Financial Advisors lifted its stake in Squarespace by 2,128.1% in the 1st quarter. Captrust Financial Advisors now owns 1,270 shares of the company's stock valued at $33,000 after acquiring an additional 1,213 shares in the last quarter. Clear Street Markets LLC acquired a new position in shares of Squarespace during the 4th quarter worth approximately $43,000. Finally, Advisors Asset Management Inc. acquired a new position in shares of Squarespace during the 1st quarter worth approximately $46,000. 40.90% of the stock is currently owned by institutional investors and hedge funds.
Squarespace Company Profile
Squarespace, Inc operates platform for businesses and independent creators to build online presence, grow their brands, and manage their businesses across the internet. Its suite of integrated products enables users to manage their projects and businesses through websites, domains, e-commerce, marketing tools, and scheduling, as well as tools for managing a social media presence.
See Also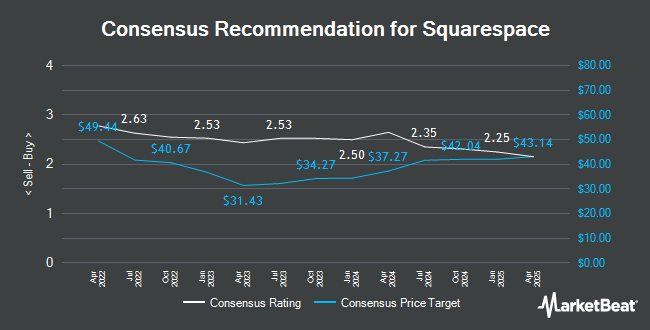 Receive News & Ratings for Squarespace Daily - Enter your email address below to receive a concise daily summary of the latest news and analysts' ratings for Squarespace and related companies with MarketBeat.com's FREE daily email newsletter.