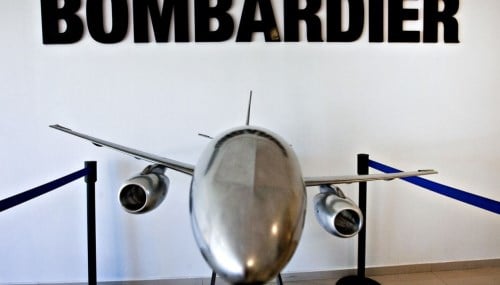 Shares of Bombardier Inc. (OTCMKTS:BDRBF – Get Rating) passed above its fifty day moving average during trading on Friday . The stock has a fifty day moving average of $46.45 and traded as high as $48.80. Bombardier shares last traded at $47.70, with a volume of 30,440 shares changing hands.
Analyst Upgrades and Downgrades
Several analysts have recently weighed in on BDRBF shares. National Bank Financial lowered shares of Bombardier from an "outperform" rating to a "sector perform" rating in a research report on Friday, February 10th. Scotiabank upped their price objective on Bombardier from C$75.00 to C$80.00 in a research note on Friday, February 10th. Cowen increased their target price on Bombardier from $30.00 to $46.00 in a report on Tuesday, November 15th. Desjardins boosted their price target on Bombardier from C$82.00 to C$97.00 in a research note on Friday, February 10th. Finally, Vertical Research lowered Bombardier from a "buy" rating to a "hold" rating in a research note on Monday, January 23rd. Two equities research analysts have rated the stock with a hold rating and six have issued a buy rating to the company's stock. Based on data from MarketBeat, Bombardier has an average rating of "Moderate Buy" and an average target price of $70.13.
Bombardier Stock Down 3.3 %
The business's 50 day simple moving average is $46.45 and its 200-day simple moving average is $35.03.
About Bombardier
(
Get Rating
)
Bombardier, Inc engages in the design, development, and manufacture of business aircraft. It operates through the Business Aircraft Segment and Customer Services Segment. The Business Aircraft segment includes the manufacture of three families of business jets spanning from the light to large categories.
Recommended Stories
Receive News & Ratings for Bombardier Daily - Enter your email address below to receive a concise daily summary of the latest news and analysts' ratings for Bombardier and related companies with MarketBeat.com's FREE daily email newsletter.