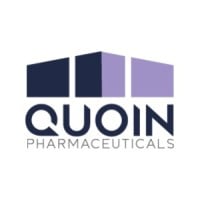 Quoin Pharmaceuticals (NASDAQ:QNRX – Get Rating) was downgraded by investment analysts at LADENBURG THALM/SH SH from a "buy" rating to a "neutral" rating in a report issued on Friday, The Fly reports.
Quoin Pharmaceuticals Price Performance
QNRX stock opened at $0.50 on Friday. The stock has a market capitalization of $2.43 million, a P/E ratio of -0.07 and a beta of 1.69. The business has a 50-day moving average of $1.38 and a 200-day moving average of $1.96. Quoin Pharmaceuticals has a fifty-two week low of $0.43 and a fifty-two week high of $28.11.
Institutional Inflows and Outflows
Institutional investors and hedge funds have recently modified their holdings of the company. Jane Street Group LLC acquired a new position in Quoin Pharmaceuticals during the third quarter valued at approximately $26,000. Renaissance Technologies LLC boosted its position in Quoin Pharmaceuticals by 28.8% during the second quarter. Renaissance Technologies LLC now owns 64,932 shares of the company's stock valued at $29,000 after purchasing an additional 14,532 shares during the last quarter. Finally, Virtu Financial LLC acquired a new position in Quoin Pharmaceuticals during the first quarter valued at approximately $57,000. 12.05% of the stock is owned by institutional investors and hedge funds.
About Quoin Pharmaceuticals
(
Get Rating
)
Quoin Pharmaceuticals Ltd. is a specialty pharmaceutical company engaged in the development of therapeutic products for the treatment of rare and orphan diseases. The company was founded on March 5, 2018 and is headquartered in Kefar Sava, Israel.
Read More

Receive News & Ratings for Quoin Pharmaceuticals Daily - Enter your email address below to receive a concise daily summary of the latest news and analysts' ratings for Quoin Pharmaceuticals and related companies with MarketBeat.com's FREE daily email newsletter.