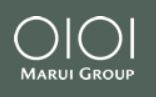 Marui Group Co., Ltd. (OTCMKTS:MAURY – Get Rating)'s stock price fell 1.8% during mid-day trading on Wednesday . The stock traded as low as $30.21 and last traded at $30.21. 1,371 shares changed hands during mid-day trading, a decline of 49% from the average session volume of 2,677 shares. The stock had previously closed at $30.76.
Marui Group Stock Down 1.8 %
The business has a fifty day moving average of $31.64 and a 200 day moving average of $32.80. The firm has a market cap of $3.14 billion, a P/E ratio of 19.37 and a beta of 0.51.
About Marui Group
Marui Group Co, Ltd. engages in the corporate planning and management of its group companies which are in the retail business. It operates through the following segments: Retailing and Store Operations, Credit Card Services and Retail-related Services. The Retailing and Store Operations segment sells apparel, accessories, interior and household goods, food products, and other sundry goods.
Further Reading
Receive News & Ratings for Marui Group Daily - Enter your email address below to receive a concise daily summary of the latest news and analysts' ratings for Marui Group and related companies with MarketBeat.com's FREE daily email newsletter.