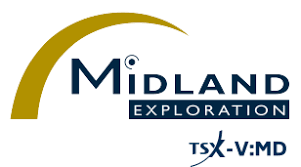 Shares of Midland Exploration Inc. (CVE:MD – Get Rating) crossed above its two hundred day moving average during trading on Thursday . The stock has a two hundred day moving average of C$0.43 and traded as high as C$0.62. Midland Exploration shares last traded at C$0.60, with a volume of 78,700 shares changing hands.
Midland Exploration Trading Up 15.4 %
The stock has a market cap of C$49.67 million, a PE ratio of -20.00 and a beta of 0.82. The company has a debt-to-equity ratio of 0.19, a quick ratio of 4.21 and a current ratio of 5.97. The company's 50-day moving average price is C$0.51 and its 200 day moving average price is C$0.43.
About Midland Exploration
Midland Exploration Inc, a mineral exploration company, engages in the acquisition, exploration, and evaluation of mineral properties in Canada. The company explores for gold deposits, platinum group elements, and base metals. It holds 100% interest in 460 claims covering an area of approximately 260 square kilometers located in the Abitibi region between the towns of Amos and Matagami.
See Also
Receive News & Ratings for Midland Exploration Daily - Enter your email address below to receive a concise daily summary of the latest news and analysts' ratings for Midland Exploration and related companies with MarketBeat.com's FREE daily email newsletter.