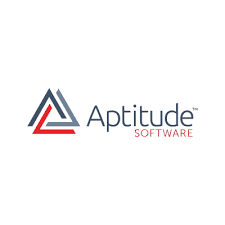 Aptitude Software Group (LON:APTD – Get Rating)'s stock had its "buy" rating reiterated by investment analysts at Canaccord Genuity Group in a report released on Wednesday, Marketbeat.com reports. They presently have a GBX 615 ($7.70) price target on the stock. Canaccord Genuity Group's target price would indicate a potential upside of 79.82% from the stock's current price.
Aptitude Software Group Price Performance
LON:APTD opened at GBX 342 ($4.28) on Wednesday. The company has a quick ratio of 1.01, a current ratio of 1.10 and a debt-to-equity ratio of 22.04. Aptitude Software Group has a 52 week low of GBX 311 ($3.90) and a 52 week high of GBX 431.13 ($5.40). The stock has a market capitalization of £196.10 million, a PE ratio of 8,550.00 and a beta of 0.42. The stock's 50-day moving average price is GBX 362.08 and its 200-day moving average price is GBX 360.27.
Insider Activity
In related news, insider Jeremy Suddards sold 924 shares of Aptitude Software Group stock in a transaction that occurred on Friday, April 21st. The shares were sold at an average price of GBX 357 ($4.47), for a total value of £3,298.68 ($4,132.13). Corporate insiders own 11.36% of the company's stock.
Aptitude Software Group Company Profile
(
Get Rating
)
Aptitude Software Group plc, together with its subsidiaries, provides finance digitalization and subscription management software in the United Kingdom and internationally. It provides subscription management and billing; revenue management; and aptitude compliance solutions; and Aptitude Accounting Hub, centralizing and automating finance, accounting and reporting processes.
Featured Stories
Receive News & Ratings for Aptitude Software Group Daily - Enter your email address below to receive a concise daily summary of the latest news and analysts' ratings for Aptitude Software Group and related companies with MarketBeat.com's FREE daily email newsletter.