Calian Group Ltd. (TSE:CGY – Get Rating) – Research analysts at Cormark lifted their FY2024 earnings per share (EPS) estimates for Calian Group in a report issued on Monday, May 15th. Cormark analyst J. Pytlak now anticipates that the company will post earnings per share of $4.75 for the year, up from their previous forecast of $4.71. The consensus estimate for Calian Group's current full-year earnings is $4.11 per share.
Calian Group (TSE:CGY – Get Rating) last announced its quarterly earnings data on Tuesday, February 14th. The company reported C$0.75 earnings per share (EPS) for the quarter, missing the consensus estimate of C$0.83 by C($0.08). The firm had revenue of C$147.54 million during the quarter, compared to analyst estimates of C$142.95 million.
Separately, Canaccord Genuity Group lifted their target price on Calian Group from C$80.00 to C$83.00 in a research report on Friday, March 10th.
Calian Group Stock Up 0.2 %
Calian Group stock opened at C$63.14 on Thursday. Calian Group has a 1-year low of C$52.70 and a 1-year high of C$72.11. The company has a debt-to-equity ratio of 8.30, a current ratio of 1.48 and a quick ratio of 1.20. The stock has a market cap of C$740.63 million, a PE ratio of 42.09, a P/E/G ratio of 2.50 and a beta of 0.89. The stock's fifty day moving average is C$63.16 and its two-hundred day moving average is C$62.70.
Calian Group Dividend Announcement
The company also recently declared a quarterly dividend, which will be paid on Wednesday, June 7th. Stockholders of record on Wednesday, May 24th will be paid a dividend of $0.28 per share. This represents a $1.12 annualized dividend and a dividend yield of 1.77%. The ex-dividend date is Tuesday, May 23rd. Calian Group's dividend payout ratio (DPR) is 74.67%.
About Calian Group
Calian Group Ltd. provides business services and solutions in the areas of health, learning, advanced technology, and IT and Cyber Solutions (ITCS) in Canada and internationally. The company's Advanced Technologies segment offers developed products and engineering solutions for the space, defence, and terrestrial sectors; software and product development, custom manufacturing, full life-cycle support, studies, requirements analysis, project management, multi-discipline engineered system solutions, and training services; systems engineering, integration design, and embedded design solutions; operational management and lifecycle support, modelling and simulation-enabled design, and research and development services; nuclear and environmental services, including environmental protection, radiation protection, decommissioning and waste management, regulatory affairs and licensing, and emergency preparedness and training; electronic design and manufacturing; satellite communication products, aerospace and defence electronics, and engineering and technical services; wired and terrestrial wireless products, GNSS antennas and receivers, asset management, agriculture technology, nuclear and environment, and composites designs and products.
Read More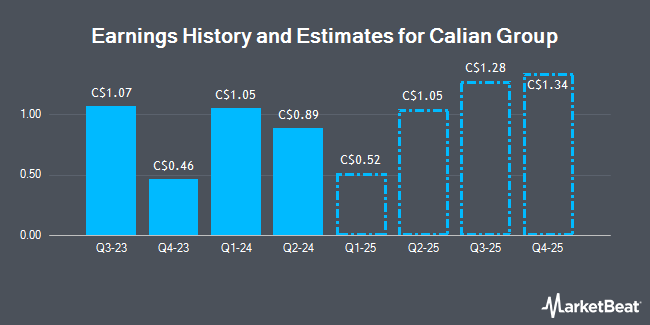 Receive News & Ratings for Calian Group Daily - Enter your email address below to receive a concise daily summary of the latest news and analysts' ratings for Calian Group and related companies with MarketBeat.com's FREE daily email newsletter.