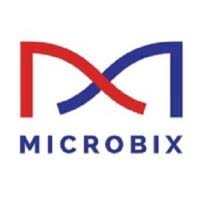 Microbix Biosystems Inc. (TSE:MBX – Get Rating) – Research analysts at Bloom Burton dropped their FY2024 EPS estimates for Microbix Biosystems in a research report issued on Monday, May 15th. Bloom Burton analyst A. Borovina now forecasts that the company will post earnings per share of $0.05 for the year, down from their prior forecast of $0.06. The consensus estimate for Microbix Biosystems' current full-year earnings is $0.01 per share.
Microbix Biosystems Price Performance
TSE MBX opened at C$0.42 on Thursday. The company has a market capitalization of C$58.15 million, a PE ratio of 34.00 and a beta of 0.14. Microbix Biosystems has a 12-month low of C$0.30 and a 12-month high of C$0.57. The firm's 50 day moving average is C$0.38 and its 200-day moving average is C$0.40. The company has a quick ratio of 5.57, a current ratio of 6.32 and a debt-to-equity ratio of 25.43.
Microbix Biosystems Company Profile
(
Get Rating
)
Microbix Biosystems Inc, a life science company, develops and commercializes proprietary biological and technological solutions for human health and wellbeing in North America, Europe, and internationally. It manufactures a range of critical biological materials for the diagnostics industry, notably test ingredients for immunoassays and quality assessment and proficiency testing controls (QAPs) that support sample collection devices.
Recommended Stories
Receive News & Ratings for Microbix Biosystems Daily - Enter your email address below to receive a concise daily summary of the latest news and analysts' ratings for Microbix Biosystems and related companies with MarketBeat.com's FREE daily email newsletter.