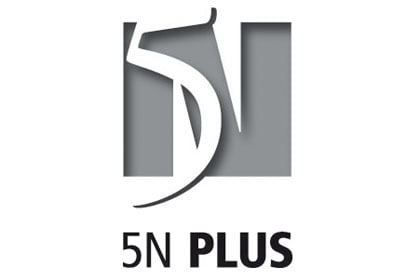 5N Plus Inc. (TSE:VNP – Get Rating) passed above its two hundred day moving average during trading on Tuesday . The stock has a two hundred day moving average of C$3.05 and traded as high as C$3.41. 5N Plus shares last traded at C$3.24, with a volume of 128,833 shares trading hands.
Wall Street Analyst Weigh In
Several research firms have recently weighed in on VNP. National Bankshares lifted their price objective on 5N Plus from C$4.00 to C$4.25 and gave the company an "outperform" rating in a research note on Friday, May 5th. Cormark reduced their price objective on 5N Plus from C$5.50 to C$4.75 in a research note on Friday, May 5th. Four equities research analysts have rated the stock with a buy rating, According to data from MarketBeat.com, the stock presently has an average rating of "Buy" and a consensus target price of C$4.50.
5N Plus Stock Down 3.6 %
The firm has a 50-day moving average of C$3.33 and a 200 day moving average of C$3.05. The stock has a market capitalization of C$286.58 million, a price-to-earnings ratio of -14.09, a price-to-earnings-growth ratio of 6,283.33 and a beta of 1.55. The company has a current ratio of 2.22, a quick ratio of 1.51 and a debt-to-equity ratio of 131.44.
5N Plus (
TSE:VNP
–
Get Rating
) last released its quarterly earnings results on Tuesday, February 21st. The company reported C$0.03 EPS for the quarter, topping the consensus estimate of C$0.02 by C$0.01. The firm had revenue of C$82.88 million for the quarter, compared to analyst estimates of C$89.11 million. 5N Plus had a negative return on equity of 12.81% and a negative net margin of 6.19%. On average, sell-side analysts anticipate that 5N Plus Inc. will post 0.1815718 earnings per share for the current year.
Insider Buying and Selling
In related news, Senior Officer Richard Perron sold 79,500 shares of the business's stock in a transaction that occurred on Tuesday, March 7th. The stock was sold at an average price of C$3.32, for a total transaction of C$263,781.00. 4.93% of the stock is currently owned by corporate insiders.
5N Plus Company Profile
5N Plus Inc produces and sells semiconductors in North America, Europe, and Asia. It operates through Specialty Semiconductors and Performance Material segments. The company offers low melting point alloys, semiconductor compounds and wafers, as well as various chemicals, and metals. It is also involved in manufacture of metallic powders for micro-electronic and manufacturing applications.
Recommended Stories
Receive News & Ratings for 5N Plus Daily - Enter your email address below to receive a concise daily summary of the latest news and analysts' ratings for 5N Plus and related companies with MarketBeat.com's FREE daily email newsletter.