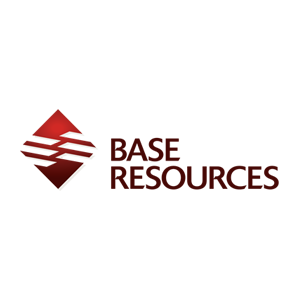 Base Resources Limited (LON:BSE – Get Free Report)'s share price crossed above its fifty day moving average during trading on Tuesday . The stock has a fifty day moving average of GBX 9.38 ($0.12) and traded as high as GBX 11.43 ($0.14). Base Resources shares last traded at GBX 11.40 ($0.14), with a volume of 1,513,249 shares traded.
Analysts Set New Price Targets
A number of equities research analysts recently issued reports on BSE shares. Canaccord Genuity Group dropped their target price on shares of Base Resources from GBX 50 ($0.63) to GBX 40 ($0.50) and set a "buy" rating for the company in a research report on Tuesday, July 25th. Canaccord Genuity Group restated a "buy" rating and issued a GBX 50 ($0.63) price objective on shares of Base Resources in a research report on Monday, July 3rd. Four analysts have rated the stock with a buy rating, According to MarketBeat, the company presently has an average rating of "Buy" and an average price target of GBX 37.75 ($0.48).
View Our Latest Research Report on Base Resources
Base Resources Stock Up 2.0 %
The company has a debt-to-equity ratio of 0.26, a quick ratio of 3.81 and a current ratio of 4.76. The stock has a market cap of £137.18 million, a price-to-earnings ratio of 228.00 and a beta of 0.85. The firm's 50-day simple moving average is GBX 9.38 and its two-hundred day simple moving average is GBX 10.48.
Base Resources Company Profile
Base Resources Limited operates as mineral sand developer and producer in Africa. It operates through Kwale Operation, Toliara Project, and Other segments. The company produces mineral sands, such as rutile, ilmenite, and zircon. It primarily owns a 100% interest in the Kwale Mineral Sands project located in Kenya; and develops the Toliara project located in Madagascar.
Further Reading
Receive News & Ratings for Base Resources Daily - Enter your email address below to receive a concise daily summary of the latest news and analysts' ratings for Base Resources and related companies with MarketBeat.com's FREE daily email newsletter.