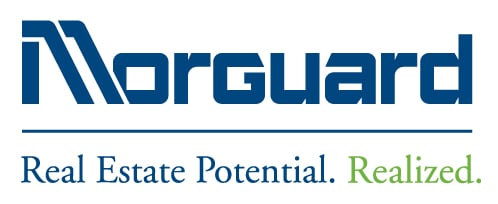 Shares of Morguard Co. (TSE:MRC – Get Free Report) passed below its 200-day moving average during trading on Tuesday . The stock has a 200-day moving average of C$104.98 and traded as low as C$102.81. Morguard shares last traded at C$102.95, with a volume of 205 shares.
Wall Street Analysts Forecast Growth
Separately, Royal Bank of Canada increased their target price on Morguard from C$140.00 to C$145.00 and gave the company a "sector perform" rating in a report on Wednesday, August 9th.
View Our Latest Research Report on MRC
Morguard Stock Performance
The company has a debt-to-equity ratio of 144.09, a current ratio of 0.17 and a quick ratio of 0.13. The stock has a market cap of C$1.13 billion, a price-to-earnings ratio of -4.39 and a beta of 1.11. The firm has a fifty day moving average of C$102.61 and a 200 day moving average of C$104.98.
Morguard (TSE:MRC – Get Free Report) last issued its quarterly earnings data on Wednesday, August 2nd. The real estate investment trust reported C$8.19 earnings per share for the quarter. Morguard had a negative return on equity of 6.71% and a negative net margin of 21.93%. The company had revenue of C$306.02 million during the quarter. As a group, sell-side analysts forecast that Morguard Co. will post 26.3974359 EPS for the current year.
Morguard Announces Dividend
The business also recently announced a quarterly dividend, which will be paid on Friday, September 29th. Investors of record on Friday, September 15th will be issued a $0.15 dividend. The ex-dividend date of this dividend is Thursday, September 14th. This represents a $0.60 dividend on an annualized basis and a yield of 0.58%. Morguard's dividend payout ratio (DPR) is presently -2.56%.
Morguard Company Profile
Morguard Corporation, a real estate investment and management company, engages in acquires, owns, and develops multi-suite residential, commercial, and hotel properties in Canada and the United States. The company offers real estate management services, including acquisitions, development, dispositions, leasing, performance measurement, and asset and property management; real estate investment advisory services; and investment products across equity, fixed income, and balanced portfolios to institutional clients and private investors.
Recommended Stories
Receive News & Ratings for Morguard Daily - Enter your email address below to receive a concise daily summary of the latest news and analysts' ratings for Morguard and related companies with MarketBeat.com's FREE daily email newsletter.