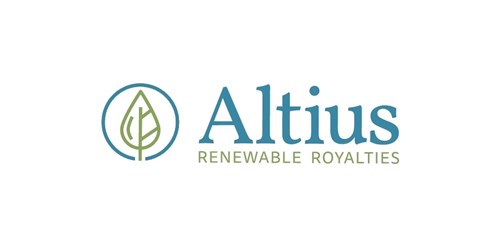 Altius Renewable Royalties Corp. (OTCMKTS:ATRWF – Get Free Report) shares rose 0.3% during trading on Thursday . The company traded as high as $6.57 and last traded at $6.57. Approximately 700 shares were traded during trading, a decline of 77% from the average daily volume of 3,099 shares. The stock had previously closed at $6.55.
Analyst Ratings Changes
Separately, National Bank Financial lowered their target price on Altius Renewable Royalties from C$11.00 to C$10.75 in a report on Thursday, August 3rd.
Get Our Latest Stock Analysis on Altius Renewable Royalties
Altius Renewable Royalties Trading Up 0.3 %
The business has a fifty day moving average of $6.81 and a 200-day moving average of $6.55.
Altius Renewable Royalties Company Profile
Altius Renewable Royalties Corp., a renewable energy royalty company, holds interest in the royalties and investments in renewable energy projects. It also provides tailored financing solutions to the renewable power sector. The company operates wind, solar, battery storage, and other types of renewable energy projects located in Texas, Kansas, California, and Vermont.
See Also
Receive News & Ratings for Altius Renewable Royalties Daily - Enter your email address below to receive a concise daily summary of the latest news and analysts' ratings for Altius Renewable Royalties and related companies with MarketBeat.com's FREE daily email newsletter.