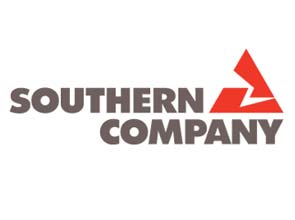 The Southern Company (NYSE:SO – Get Free Report) EVP Christopher Cummiskey sold 5,000 shares of the firm's stock in a transaction dated Tuesday, August 29th. The stock was sold at an average price of $68.30, for a total value of $341,500.00. Following the sale, the executive vice president now directly owns 22,512 shares in the company, valued at approximately $1,537,569.60. The sale was disclosed in a document filed with the SEC, which is accessible through this link.
Southern Price Performance
Southern stock opened at $67.22 on Friday. The business has a 50 day simple moving average of $69.89 and a 200-day simple moving average of $69.81. The Southern Company has a 12 month low of $58.85 and a 12 month high of $80.32. The company has a debt-to-equity ratio of 1.59, a current ratio of 0.83 and a quick ratio of 0.62. The stock has a market capitalization of $73.31 billion, a PE ratio of 23.75, a price-to-earnings-growth ratio of 4.73 and a beta of 0.50.
Southern (NYSE:SO – Get Free Report) last released its earnings results on Thursday, August 3rd. The utilities provider reported $0.79 EPS for the quarter, topping the consensus estimate of $0.74 by $0.05. Southern had a net margin of 11.17% and a return on equity of 9.86%. The company had revenue of $5.75 billion during the quarter, compared to analysts' expectations of $6.47 billion. During the same quarter last year, the business earned $1.07 EPS. The business's revenue was down 20.2% on a year-over-year basis. Equities analysts predict that The Southern Company will post 3.6 earnings per share for the current year.
Southern Announces Dividend
The firm also recently announced a quarterly dividend, which will be paid on Wednesday, September 6th. Stockholders of record on Monday, August 21st will be paid a dividend of $0.70 per share. This represents a $2.80 dividend on an annualized basis and a dividend yield of 4.17%. The ex-dividend date is Friday, August 18th. Southern's dividend payout ratio (DPR) is 98.94%.
Institutional Trading of Southern
Several hedge funds have recently modified their holdings of the business. Norges Bank purchased a new position in Southern in the fourth quarter worth $435,979,000. Capital International Investors acquired a new stake in shares of Southern in the second quarter valued at about $392,186,000. Moneta Group Investment Advisors LLC purchased a new stake in Southern during the fourth quarter worth about $369,131,000. Mitsubishi UFJ Trust & Banking Corp grew its position in Southern by 586.3% during the first quarter. Mitsubishi UFJ Trust & Banking Corp now owns 5,564,201 shares of the utilities provider's stock worth $387,157,000 after buying an additional 4,753,465 shares during the period. Finally, Wellington Management Group LLP increased its holdings in Southern by 162.4% in the first quarter. Wellington Management Group LLP now owns 6,572,373 shares of the utilities provider's stock valued at $457,306,000 after buying an additional 4,067,395 shares in the last quarter. 62.85% of the stock is owned by institutional investors and hedge funds.
Analyst Upgrades and Downgrades
A number of analysts have weighed in on the stock. BMO Capital Markets cut their price objective on shares of Southern from $72.00 to $70.00 and set a "market perform" rating on the stock in a report on Thursday. JPMorgan Chase & Co. cut their price target on shares of Southern from $73.00 to $69.00 in a research note on Thursday, June 8th. Barclays initiated coverage on shares of Southern in a research note on Wednesday, August 23rd. They issued an "equal weight" rating and a $68.00 price objective for the company. The Goldman Sachs Group raised Southern from a "buy" rating to a "conviction-buy" rating in a report on Monday, July 3rd. Finally, StockNews.com started coverage on Southern in a research note on Saturday, August 19th. They set a "sell" rating on the stock. Four analysts have rated the stock with a sell rating, four have issued a hold rating, six have given a buy rating and one has issued a strong buy rating to the company's stock. Based on data from MarketBeat.com, Southern presently has a consensus rating of "Hold" and an average target price of $73.31.
View Our Latest Analysis on SO
About Southern
The Southern Company, through its subsidiaries, engages in the generation, transmission, and distribution of electricity. It operates through three segments: Gas Distribution Operations, Gas Pipeline Investments, and Gas Marketing Services. The company also develops, constructs, acquires, owns, and manages power generation assets, including renewable energy projects and sells electricity in the wholesale market; and distributes natural gas in Illinois, Georgia, Virginia, and Tennessee, as well as provides gas marketing services, gas distribution operations, and gas pipeline investments operations.
Further Reading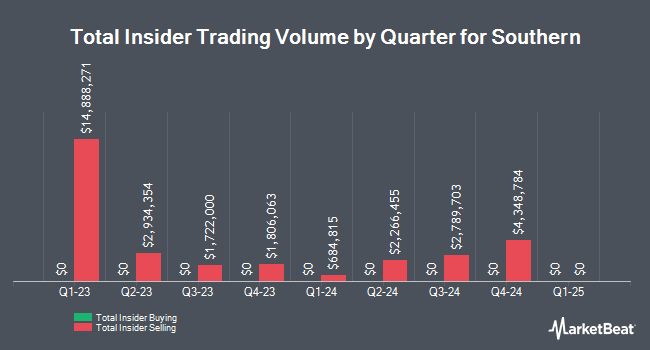 Receive News & Ratings for Southern Daily - Enter your email address below to receive a concise daily summary of the latest news and analysts' ratings for Southern and related companies with MarketBeat.com's FREE daily email newsletter.