Credit Suisse AG increased its stake in Veritiv Co. (NYSE:VRTV – Free Report) by 1.6% during the 1st quarter, according to its most recent disclosure with the Securities and Exchange Commission. The fund owned 15,337 shares of the basic materials company's stock after purchasing an additional 243 shares during the quarter. Credit Suisse AG owned 0.11% of Veritiv worth $2,073,000 at the end of the most recent quarter.
Several other institutional investors and hedge funds also recently added to or reduced their stakes in the stock. WealthPLAN Partners LLC purchased a new position in shares of Veritiv during the 1st quarter worth $27,000. Financial Management Professionals Inc. purchased a new position in shares of Veritiv during the 1st quarter worth $32,000. Amundi purchased a new position in shares of Veritiv during the 4th quarter worth $43,000. US Bancorp DE lifted its stake in shares of Veritiv by 1,390.0% during the 1st quarter. US Bancorp DE now owns 447 shares of the basic materials company's stock valued at $60,000 after buying an additional 417 shares in the last quarter. Finally, Carolinas Wealth Consulting LLC bought a new position in Veritiv in the 1st quarter worth $67,000. Hedge funds and other institutional investors own 99.03% of the company's stock.
Veritiv Stock Down 0.1 %
Shares of VRTV stock opened at $168.10 on Tuesday. The stock has a market cap of $2.28 billion, a P/E ratio of 7.57, a PEG ratio of 0.53 and a beta of 2.17. Veritiv Co. has a 52 week low of $94.50 and a 52 week high of $169.85. The company has a quick ratio of 1.42, a current ratio of 2.20 and a debt-to-equity ratio of 0.19. The company's fifty day simple moving average is $147.20 and its two-hundred day simple moving average is $130.55.
Veritiv (
NYSE:VRTV
–
Get Free Report
) last announced its quarterly earnings results on Tuesday, August 8th. The basic materials company reported $5.15 EPS for the quarter, topping the consensus estimate of $5.02 by $0.13. The business had revenue of $1.46 billion for the quarter. Veritiv had a net margin of 4.78% and a return on equity of 37.30%. During the same quarter in the previous year, the firm earned $6.12 EPS. Analysts predict that Veritiv Co. will post 20.25 EPS for the current fiscal year.
Veritiv Dividend Announcement
The business also recently declared a quarterly dividend, which will be paid on Wednesday, September 13th. Shareholders of record on Thursday, August 17th will be paid a $0.63 dividend. This represents a $2.52 annualized dividend and a yield of 1.50%. The ex-dividend date of this dividend is Wednesday, August 16th. Veritiv's payout ratio is currently 11.35%.
Wall Street Analyst Weigh In
Several research analysts recently weighed in on the stock. StockNews.com assumed coverage on shares of Veritiv in a report on Saturday. They issued a "buy" rating for the company. Bank of America dropped their target price on shares of Veritiv from $159.00 to $158.00 in a report on Monday, July 10th.
Read Our Latest Stock Analysis on Veritiv
Veritiv Profile
Veritiv Corporation operates as a business-to-business provider of value-added packaging products and services, facility solutions, and print based products and services in the United States and internationally. It operates through Packaging, Facility Solutions, and Print segments. The Packaging segment provides packaging product materials within flexible, corrugated and fiber, ancillary packaging, rigid, and equipment categories.
Featured Articles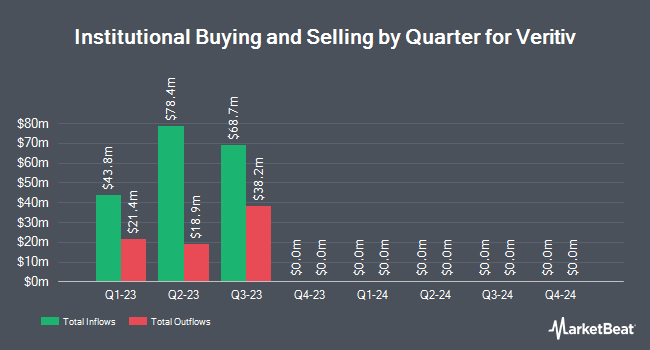 Receive News & Ratings for Veritiv Daily - Enter your email address below to receive a concise daily summary of the latest news and analysts' ratings for Veritiv and related companies with MarketBeat.com's FREE daily email newsletter.