Jefferies Financial Group upgraded shares of Thales (OTCMKTS:THLLY – Free Report) from a hold rating to a buy rating in a research report report published on Monday morning, FlyOnTheWall reports.
Separately, Morgan Stanley started coverage on Thales in a report on Tuesday, June 13th. They set an overweight rating for the company. Five investment analysts have rated the stock with a buy rating, According to data from MarketBeat, the company has a consensus rating of Buy and an average price target of $149.00.
View Our Latest Research Report on THLLY
Thales Price Performance
Shares of
Thales stock
opened at $29.13 on Monday. The business has a 50 day simple moving average of $29.44 and a two-hundred day simple moving average of $29.31. Thales has a 12 month low of $20.82 and a 12 month high of $31.43.
Thales Company Profile
Thales SA provides various solutions for civilian and military customers in the defence and security, aerospace and space, digital identity and security, and transport markets worldwide. It operates through Aerospace, Defence & Security, Digital Identity & Security, and Ground Transportation Systems business segments.
See Also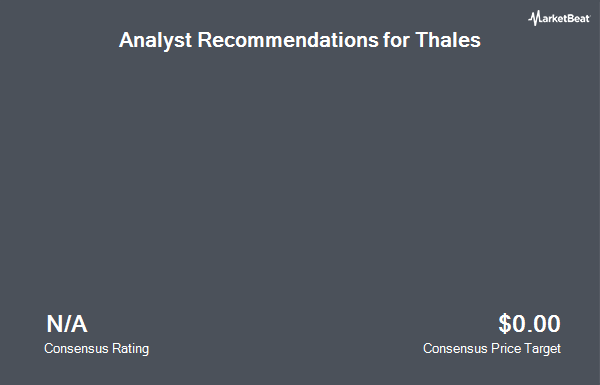 Receive News & Ratings for Thales Daily - Enter your email address below to receive a concise daily summary of the latest news and analysts' ratings for Thales and related companies with MarketBeat.com's FREE daily email newsletter.