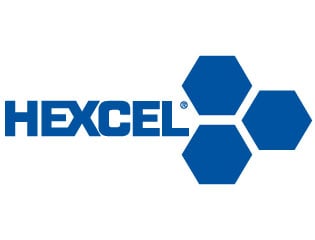 Hexcel Co. (NYSE:HXL – Free Report) – Equities researchers at Zacks Research dropped their Q1 2025 earnings estimates for Hexcel in a research report issued to clients and investors on Tuesday, September 5th. Zacks Research analyst S. Kedia now forecasts that the aerospace company will post earnings of $0.68 per share for the quarter, down from their previous estimate of $0.69. The consensus estimate for Hexcel's current full-year earnings is $1.92 per share.
Hexcel (NYSE:HXL – Get Free Report) last released its earnings results on Tuesday, July 25th. The aerospace company reported $0.50 EPS for the quarter, beating the consensus estimate of $0.48 by $0.02. The business had revenue of $454.30 million during the quarter, compared to analyst estimates of $450.15 million. Hexcel had a net margin of 8.73% and a return on equity of 9.40%. The business's quarterly revenue was up 15.6% on a year-over-year basis. During the same period in the prior year, the business earned $0.33 earnings per share.
Several other research analysts have also recently commented on the stock. Wells Fargo & Company raised their target price on shares of Hexcel from $71.00 to $77.00 in a report on Wednesday, July 26th. Wolfe Research raised Hexcel from a "peer perform" rating to an "outperform" rating and set a $83.00 target price on the stock in a research note on Thursday, August 17th. Royal Bank of Canada raised shares of Hexcel from a "sector perform" rating to an "outperform" rating and boosted their price objective for the company from $75.00 to $85.00 in a research report on Tuesday, August 15th.
StockNews.com
began coverage on shares of Hexcel in a research report on Thursday, August 17th. They issued a "hold" rating for the company. Finally, BMO Capital Markets dropped their price target on shares of Hexcel from $74.00 to $73.00 and set a "market perform" rating on the stock in a research note on Monday, August 7th. Seven investment analysts have rated the stock with a hold rating and two have assigned a buy rating to the stock. According to data from MarketBeat.com, the stock has a consensus rating of "Hold" and a consensus target price of $75.22.
Hexcel Stock Performance
Shares of NYSE HXL opened at $71.28 on Thursday. Hexcel has a 52-week low of $50.00 and a 52-week high of $79.08. The stock has a market capitalization of $6.02 billion, a price-to-earnings ratio of 40.97 and a beta of 1.22. The company has a quick ratio of 1.63, a current ratio of 2.93 and a debt-to-equity ratio of 0.47. The stock's fifty day simple moving average is $72.52 and its 200 day simple moving average is $71.36.
Hexcel Announces Dividend
The business also recently declared a quarterly dividend, which was paid on Friday, August 11th. Shareholders of record on Friday, August 4th were given a $0.125 dividend. The ex-dividend date of this dividend was Thursday, August 3rd. This represents a $0.50 dividend on an annualized basis and a dividend yield of 0.70%. Hexcel's dividend payout ratio is currently 28.74%.
Insider Transactions at Hexcel
In other news, insider Gail E. Lehman sold 1,571 shares of the business's stock in a transaction on Thursday, July 27th. The shares were sold at an average price of $70.15, for a total value of $110,205.65. Following the completion of the sale, the insider now directly owns 6,942 shares in the company, valued at $486,981.30. The sale was disclosed in a filing with the Securities & Exchange Commission, which is available through this link. 1.39% of the stock is currently owned by corporate insiders.
Institutional Inflows and Outflows
Several institutional investors have recently added to or reduced their stakes in the business. Morgan Stanley raised its stake in Hexcel by 838.6% during the 4th quarter. Morgan Stanley now owns 6,810,199 shares of the aerospace company's stock valued at $400,780,000 after purchasing an additional 6,084,592 shares during the last quarter. Jackson Square Partners LLC acquired a new position in shares of Hexcel during the first quarter valued at about $86,847,000. Norges Bank bought a new stake in shares of Hexcel in the fourth quarter valued at about $56,738,000. Jennison Associates LLC grew its holdings in shares of Hexcel by 206.6% during the 1st quarter. Jennison Associates LLC now owns 780,302 shares of the aerospace company's stock worth $53,256,000 after purchasing an additional 525,820 shares in the last quarter. Finally, BlackRock Inc. increased its holdings in Hexcel by 6.0% in the 1st quarter. BlackRock Inc. now owns 8,420,295 shares of the aerospace company's stock valued at $500,755,000 after buying an additional 475,375 shares during the period. 94.71% of the stock is owned by institutional investors.
About Hexcel
Hexcel Corporation develops, manufactures, and markets carbon fibers, structural reinforcements, honeycomb structures, resins, and composite materials and parts for use in commercial aerospace, space and defense, and industrial applications. It operates through two segments, Composite Materials and Engineered Products.
Recommended Stories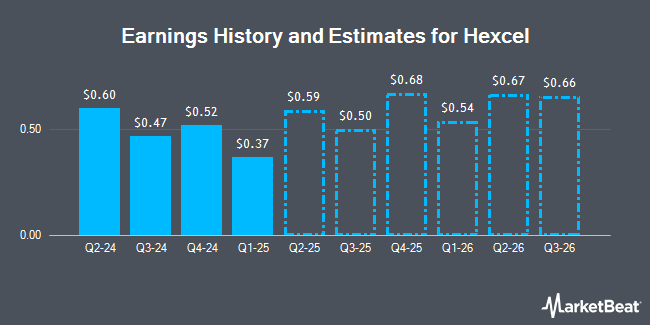 Receive News & Ratings for Hexcel Daily - Enter your email address below to receive a concise daily summary of the latest news and analysts' ratings for Hexcel and related companies with MarketBeat.com's FREE daily email newsletter.