 JPMorgan Chase & Co. started coverage on shares of CTP (OTCMKTS:CTPVF – Free Report) in a research report released on Tuesday, FlyOnTheWall reports. The firm issued an overweight rating on the stock.
Several other brokerages have also issued reports on CTPVF. Berenberg Bank assumed coverage on shares of CTP in a research note on Thursday, July 6th. They set a buy rating on the stock. Societe Generale raised shares of CTP from a hold rating to a buy rating in a research note on Tuesday, May 23rd. One equities research analyst has rated the stock with a hold rating and four have given a buy rating to the company. According to MarketBeat.com, the stock currently has an average rating of Moderate Buy and a consensus target price of C$13.00.
Get Our Latest Analysis on CTPVF
CTP Stock Performance
CTPVF
opened at C$15.00 on Tuesday. CTP has a twelve month low of C$15.00 and a twelve month high of C$15.00. The company has a fifty day moving average of C$15.00 and a 200-day moving average of C$14.91.
CTP Company Profile
CTP N.V. owns, develops, manages, and leases logistics and industrial real estate properties in Central, Western, and Eastern Europe. The company offers various building for small and growing businesses, global enterprises, built to suit, and other offices. It also develops urban parks which are harbour mixed-use building and space types, such as premium offices, retail stores, office services, public spaces, and other amenities.
Featured Articles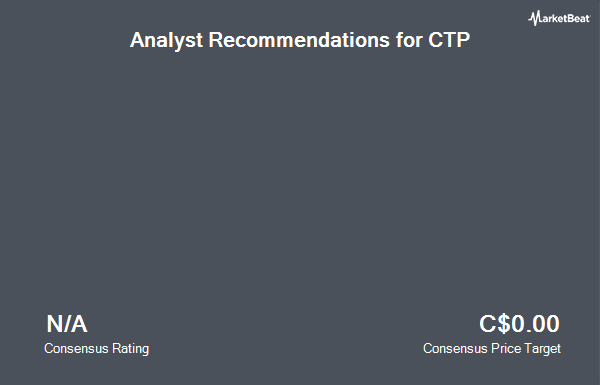 Receive News & Ratings for CTP Daily - Enter your email address below to receive a concise daily summary of the latest news and analysts' ratings for CTP and related companies with MarketBeat.com's FREE daily email newsletter.