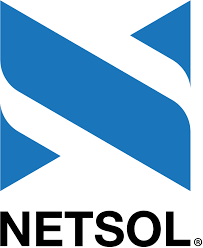 StockNews.com began coverage on shares of NetSol Technologies (NASDAQ:NTWK – Free Report) in a research report sent to investors on Wednesday morning. The firm issued a buy rating on the software maker's stock.
NetSol Technologies Stock Down 0.5 %
Shares of NASDAQ:NTWK opened at $2.16 on Wednesday. The company has a market capitalization of $24.41 million, a price-to-earnings ratio of -10.29 and a beta of 0.66. The company has a 50 day moving average of $2.26 and a two-hundred day moving average of $2.37. NetSol Technologies has a 52-week low of $2.10 and a 52-week high of $3.65. The company has a quick ratio of 2.31, a current ratio of 2.31 and a debt-to-equity ratio of 0.01.
Insider Buying and Selling
In other news, President Naeem Ghauri acquired 16,008 shares of the firm's stock in a transaction on Monday, June 26th. The stock was bought at an average cost of $2.19 per share, with a total value of $35,057.52. Following the transaction, the president now directly owns 416,697 shares in the company, valued at approximately $912,566.43. The acquisition was disclosed in a document filed with the Securities & Exchange Commission, which is available at this hyperlink. 11.71% of the stock is currently owned by insiders.
Institutional Investors Weigh In On NetSol Technologies
A hedge fund recently bought a new stake in NetSol Technologies stock. EA Series Trust purchased a new position in shares of NetSol Technologies, Inc. (
NASDAQ:NTWK
–
Free Report
) in the second quarter, according to the company in its most recent Form 13F filing with the Securities and Exchange Commission (SEC). The firm purchased 33,296 shares of the software maker's stock, valued at approximately $79,000. EA Series Trust owned approximately 0.29% of NetSol Technologies at the end of the most recent quarter. Institutional investors and hedge funds own 24.81% of the company's stock.
About NetSol Technologies
NetSol Technologies, Inc designs, develops, markets, and exports enterprise software solutions to the automobile financing and leasing, banking, and financial services industries worldwide. The company offers NFS Ascent, a suite of financial applications for businesses in the finance and leasing industry.
Further Reading
Receive News & Ratings for NetSol Technologies Daily - Enter your email address below to receive a concise daily summary of the latest news and analysts' ratings for NetSol Technologies and related companies with MarketBeat.com's FREE daily email newsletter.