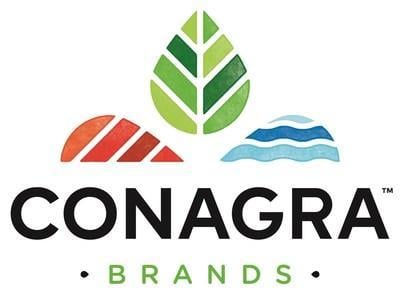 Conagra Brands, Inc. (NYSE:CAG – Free Report) – Analysts at Zacks Research upped their Q2 2024 earnings per share (EPS) estimates for shares of Conagra Brands in a note issued to investors on Tuesday, September 12th. Zacks Research analyst V. Bagree now anticipates that the company will earn $0.79 per share for the quarter, up from their previous estimate of $0.78. The consensus estimate for Conagra Brands' current full-year earnings is $2.72 per share. Zacks Research also issued estimates for Conagra Brands' Q4 2024 earnings at $0.62 EPS and Q1 2025 earnings at $0.68 EPS.
A number of other research firms have also weighed in on CAG. Deutsche Bank Aktiengesellschaft lowered their price objective on Conagra Brands from $36.00 to $35.00 in a research note on Friday, July 14th. Jefferies Financial Group dropped their price objective on shares of Conagra Brands from $38.00 to $35.00 in a report on Friday, July 14th. UBS Group reduced their target price on shares of Conagra Brands from $44.00 to $40.00 in a research note on Monday, July 10th. TD Cowen started coverage on shares of Conagra Brands in a research note on Wednesday. They issued a "market perform" rating and a $32.00 price target for the company. Finally, Stifel Nicolaus cut their price target on shares of Conagra Brands from $43.00 to $36.00 in a report on Friday, July 14th. Nine analysts have rated the stock with a hold rating and four have given a buy rating to the stock. According to data from MarketBeat, the stock presently has a consensus rating of "Hold" and a consensus price target of $37.62.
View Our Latest Stock Report on CAG
Conagra Brands Trading Down 0.2 %
Shares of Conagra Brands stock opened at $28.57 on Wednesday. The company has a debt-to-equity ratio of 0.80, a current ratio of 0.76 and a quick ratio of 0.26. The stock's 50 day simple moving average is $31.26 and its 200-day simple moving average is $34.38. The stock has a market cap of $13.63 billion, a P/E ratio of 20.12, a P/E/G ratio of 2.90 and a beta of 0.55. Conagra Brands has a 1-year low of $28.35 and a 1-year high of $41.30.
Conagra Brands (NYSE:CAG – Get Free Report) last issued its earnings results on Thursday, July 13th. The company reported $0.62 EPS for the quarter, beating analysts' consensus estimates of $0.60 by $0.02. Conagra Brands had a net margin of 5.57% and a return on equity of 15.19%. The business had revenue of $2.97 billion during the quarter, compared to analysts' expectations of $3 billion. During the same period in the prior year, the business earned $0.65 earnings per share. The company's quarterly revenue was up 2.2% compared to the same quarter last year.
Conagra Brands Increases Dividend
The company also recently announced a quarterly dividend, which was paid on Thursday, August 31st. Investors of record on Monday, July 31st were paid a dividend of $0.35 per share. This is a positive change from Conagra Brands's previous quarterly dividend of $0.33. The ex-dividend date of this dividend was Friday, July 28th. This represents a $1.40 annualized dividend and a yield of 4.90%. Conagra Brands's dividend payout ratio is presently 98.59%.
Insider Buying and Selling
In other Conagra Brands news, COO Thomas M. Mcgough sold 75,522 shares of the business's stock in a transaction dated Wednesday, August 2nd. The shares were sold at an average price of $33.07, for a total transaction of $2,497,512.54. Following the sale, the chief operating officer now directly owns 157,125 shares in the company, valued at $5,196,123.75. The sale was disclosed in a legal filing with the Securities & Exchange Commission, which can be accessed through the SEC website. 0.88% of the stock is owned by corporate insiders.
Institutional Trading of Conagra Brands
A number of large investors have recently modified their holdings of CAG. Institutional & Family Asset Management LLC purchased a new stake in shares of Conagra Brands during the first quarter worth approximately $26,000. Delta Asset Management LLC TN acquired a new stake in shares of Conagra Brands in the 4th quarter valued at $27,000. Core Alternative Capital acquired a new position in shares of Conagra Brands during the first quarter worth $31,000. ST Germain D J Co. Inc. purchased a new position in Conagra Brands in the fourth quarter valued at $33,000. Finally, Tradition Wealth Management LLC raised its stake in Conagra Brands by 641.6% in the first quarter. Tradition Wealth Management LLC now owns 927 shares of the company's stock valued at $35,000 after buying an additional 802 shares in the last quarter. Hedge funds and other institutional investors own 84.27% of the company's stock.
Conagra Brands Company Profile
Conagra Brands, Inc, together with its subsidiaries, operates as a consumer packaged goods food company primarily in the United States. The company operates through Grocery & Snacks, Refrigerated & Frozen, International, and Foodservice segments. The Grocery & Snacks segment primarily offers shelf stable food products through various retail channels.
Read More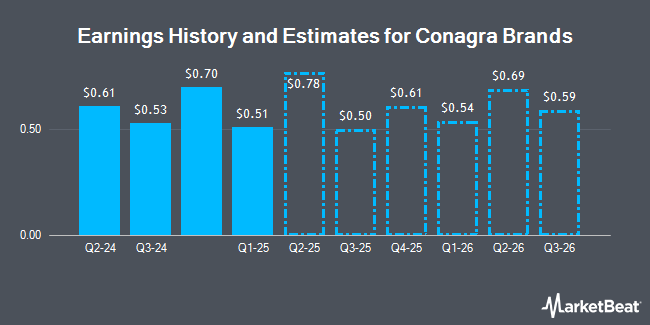 Receive News & Ratings for Conagra Brands Daily - Enter your email address below to receive a concise daily summary of the latest news and analysts' ratings for Conagra Brands and related companies with MarketBeat.com's FREE daily email newsletter.