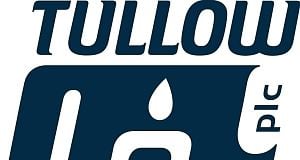 Shares of Tullow Oil plc (LON:TLW – Get Free Report) crossed above its 200-day moving average during trading on Monday . The stock has a 200-day moving average of GBX 30.64 ($0.38) and traded as high as GBX 36.44 ($0.45). Tullow Oil shares last traded at GBX 34.94 ($0.43), with a volume of 3,797,568 shares trading hands.
Wall Street Analysts Forecast Growth
A number of analysts have recently weighed in on the stock. Peel Hunt reissued a "buy" rating and set a GBX 80 ($0.99) target price on shares of Tullow Oil in a report on Tuesday, May 23rd. Barclays reiterated an "overweight" rating and set a GBX 49 ($0.61) price target on shares of Tullow Oil in a research report on Tuesday, June 13th. One analyst has rated the stock with a sell rating and four have issued a buy rating to the company's stock. According to MarketBeat, the stock currently has a consensus rating of "Moderate Buy" and a consensus target price of GBX 52.80 ($0.65).
Get Our Latest Research Report on TLW
Tullow Oil Price Performance
The firm has a market capitalization of £509.82 million, a price-to-earnings ratio of 1,164.67, a price-to-earnings-growth ratio of -0.19 and a beta of 2.16. The company's fifty day moving average price is GBX 35.17 and its 200 day moving average price is GBX 30.64. The company has a debt-to-equity ratio of 457.18, a quick ratio of 0.63 and a current ratio of 1.08.
Insider Transactions at Tullow Oil
In other Tullow Oil news, insider Phuthuma F. Nhleko purchased 142,500 shares of the stock in a transaction dated Friday, June 23rd. The shares were acquired at an average price of GBX 28 ($0.35) per share, for a total transaction of £39,900 ($49,424.01). Company insiders own 21.96% of the company's stock.
Tullow Oil Company Profile
Tullow Oil plc engages in the oil and gas exploration, development, and production activities primarily in Africa and South America. Tullow Oil plc was founded in 1985 and is headquartered in London, the United Kingdom.
Featured Stories
Receive News & Ratings for Tullow Oil Daily - Enter your email address below to receive a concise daily summary of the latest news and analysts' ratings for Tullow Oil and related companies with MarketBeat.com's FREE daily email newsletter.