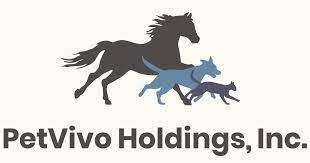 PetVivo Holdings, Inc. (NASDAQ:PETVW – Get Free Report) shares traded up 4.3% during mid-day trading on Friday . The stock traded as high as $0.28 and last traded at $0.28. 313 shares changed hands during mid-day trading, a decline of 93% from the average session volume of 4,320 shares. The stock had previously closed at $0.27.
PetVivo Price Performance
The company has a 50-day moving average of $0.29 and a 200-day moving average of $0.36.
PetVivo Company Profile
petvivo, inc is an emerging biomedical device company focused on the licensing and commercialization of innovative medical devices for pets, or pet therapeutics. petvivo believes that it can leverage the investments in the human biomaterials and medical device industries to commercialize therapeutics to pets in a capital and time efficient way.
Featured Stories
Receive News & Ratings for PetVivo Daily - Enter your email address below to receive a concise daily summary of the latest news and analysts' ratings for PetVivo and related companies with MarketBeat.com's FREE daily email newsletter.