Informa plc (LON:INF – Get Free Report) has received a consensus recommendation of "Moderate Buy" from the nine research firms that are presently covering the stock, Marketbeat.com reports. Three equities research analysts have rated the stock with a hold recommendation and six have issued a buy recommendation on the company. The average twelve-month price target among brokers that have covered the stock in the last year is GBX 771.88 ($9.39).
INF has been the subject of a number of research reports. JPMorgan Chase & Co. lifted their target price on Informa from GBX 690 ($8.40) to GBX 740 ($9.00) and gave the stock a "neutral" rating in a report on Wednesday, September 13th. Barclays lifted their target price on Informa from GBX 885 ($10.77) to GBX 890 ($10.83) and gave the stock an "overweight" rating in a report on Monday, October 2nd. Finally, Investec cut Informa to a "hold" rating and set a GBX 775 ($9.43) price target on the stock. in a research report on Tuesday, September 5th.
Read Our Latest Research Report on INF
Informa Trading Down 0.5 %
Shares of
Informa stock
opened at GBX 718.60 ($8.74) on Friday. The business has a fifty day simple moving average of GBX 728.74 and a two-hundred day simple moving average of GBX 723.29. Informa has a 1 year low of GBX 544.60 ($6.63) and a 1 year high of GBX 788.40 ($9.59). The company has a market capitalization of £9.92 billion, a price-to-earnings ratio of 2,874.40, a P/E/G ratio of 0.75 and a beta of 1.14. The company has a debt-to-equity ratio of 30.80, a current ratio of 0.79 and a quick ratio of 1.70.
About Informa
Informa plc operates as an international events, digital services, and academic knowledge company in the United Kingdom, Continental Europe, North America, China, and internationally. It operates through four segments: Informa Markets, Informa Tech, Informa Connect, and Taylor & Francis. The Informa Connect segment delivers specialist content, and live events and on-demand experiences for professionals through in-person, live, and digital platforms and services that enables businesses and professionals to meet, network, discuss, and learn.
Further Reading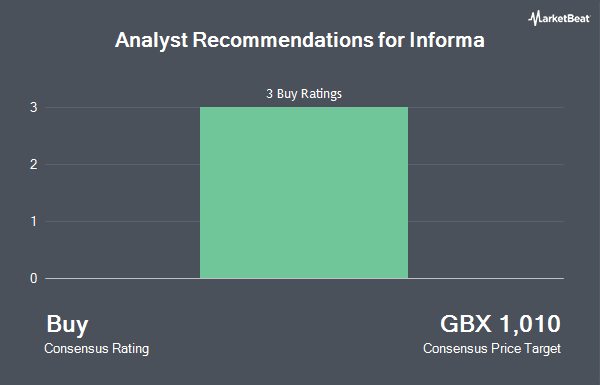 Receive News & Ratings for Informa Daily - Enter your email address below to receive a concise daily summary of the latest news and analysts' ratings for Informa and related companies with MarketBeat.com's FREE daily email newsletter.