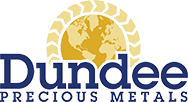 Dundee Precious Metals Inc. (TSE:DPM – Get Free Report) crossed above its 200-day moving average during trading on Tuesday . The stock has a 200-day moving average of C$9.06 and traded as high as C$9.65. Dundee Precious Metals shares last traded at C$9.59, with a volume of 491,775 shares changing hands.
Dundee Precious Metals Trading Down 1.1 %
The stock has a market cap of C$1.79 billion, a P/E ratio of 15.72, a P/E/G ratio of 0.04 and a beta of 1.28. The company has a current ratio of 8.04, a quick ratio of 6.61 and a debt-to-equity ratio of 1.44. The company has a 50-day moving average price of C$8.60 and a two-hundred day moving average price of C$9.06.
About Dundee Precious Metals
Dundee Precious Metals Inc, a gold mining company, engages in the acquisition of mineral properties; and exploration, development, mining, and processing of precious metals. It owns and operates a gold, copper, and silver mine located east of Sofia, Bulgaria; a gold mine located in south eastern Bulgaria, near the town of Krumovgrad; and a custom smelter located in Tsumeb, Namibia.
Featured Stories
Receive News & Ratings for Dundee Precious Metals Daily - Enter your email address below to receive a concise daily summary of the latest news and analysts' ratings for Dundee Precious Metals and related companies with MarketBeat.com's FREE daily email newsletter.