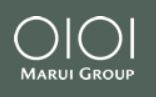 Shares of Marui Group Co., Ltd. (OTCMKTS:MAURY – Get Free Report) were down 0.9% on Tuesday . The stock traded as low as $31.09 and last traded at $32.24. Approximately 361 shares were traded during mid-day trading, a decline of 79% from the average daily volume of 1,714 shares. The stock had previously closed at $32.52.
Marui Group Trading Down 0.9 %
The company has a debt-to-equity ratio of 1.76, a current ratio of 2.62 and a quick ratio of 2.61. The company's 50-day moving average is $33.15 and its two-hundred day moving average is $33.97.
Marui Group (OTCMKTS:MAURY – Get Free Report) last posted its quarterly earnings data on Tuesday, August 8th. The company reported $0.33 earnings per share for the quarter. The company had revenue of $390.05 million for the quarter. Marui Group had a net margin of 9.92% and a return on equity of 8.74%.
About Marui Group
(
Get Free Report
)
Marui Group Co, Ltd., an investment holding company, engages in the retailing and FinTech businesses in Japan. The company engages in the design and construction of commercial facilities; advertising planning and production; property management; rental of real estate properties; small-amount short-term insurance policy business; and sale of investment trusts.
See Also
Receive News & Ratings for Marui Group Daily - Enter your email address below to receive a concise daily summary of the latest news and analysts' ratings for Marui Group and related companies with MarketBeat.com's FREE daily email newsletter.