ProSomnus (NASDAQ:OSA – Get Free Report) is scheduled to announce its earnings results after the market closes on Thursday, November 9th. Analysts expect the company to announce earnings of ($0.32) per share for the quarter. Persons interested in listening to the company's earnings conference call can do so using this link.
ProSomnus Trading Down 17.8 %
Shares of NASDAQ:OSA opened at $0.51 on Wednesday. The business's fifty day moving average price is $0.91 and its two-hundred day moving average price is $2.51. ProSomnus has a fifty-two week low of $0.45 and a fifty-two week high of $9.41.
Wall Street Analyst Weigh In
Separately, Roth Mkm dropped their target price on shares of ProSomnus from $6.00 to $4.00 and set a "buy" rating for the company in a research report on Tuesday, September 26th.
Get Our Latest Report on OSA
Institutional Investors Weigh In On ProSomnus
A hedge fund recently bought a new stake in ProSomnus stock. Charles Schwab Investment Management Inc. acquired a new position in shares of ProSomnus, Inc. (NASDAQ:OSA – Free Report) during the first quarter, according to the company in its most recent Form 13F filing with the Securities and Exchange Commission. The institutional investor acquired 38,982 shares of the company's stock, valued at approximately $203,000. Charles Schwab Investment Management Inc. owned about 0.24% of ProSomnus as of its most recent SEC filing. 7.94% of the stock is owned by hedge funds and other institutional investors.
ProSomnus Company Profile
ProSomnus, Inc operates as a medical technology company that develops, manufactures, and markets precision intraoral medical devices for treating and managing patients with obstructive sleep apnea. The company sells its products to sleep dentists, sleep physicians, primary care providers, otolarygologists, and other integrated healthcare service providers through a direct sales force.
Recommended Stories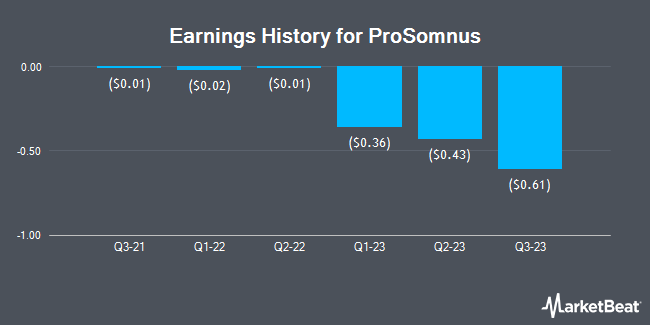 Receive News & Ratings for ProSomnus Daily - Enter your email address below to receive a concise daily summary of the latest news and analysts' ratings for ProSomnus and related companies with MarketBeat.com's FREE daily email newsletter.