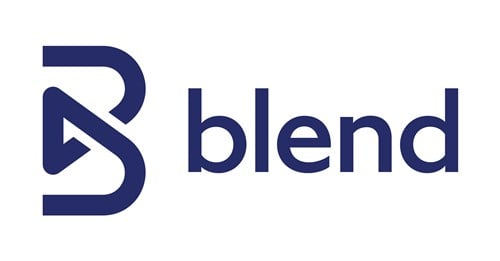 Blend Labs (NYSE:BLND – Get Free Report)'s stock had its "market perform" rating reiterated by research analysts at William Blair in a research note issued on Wednesday, RTT News reports.
BLND has been the subject of a number of other reports. The Goldman Sachs Group boosted their price objective on Blend Labs from $1.40 to $1.60 and gave the company a "buy" rating in a research report on Tuesday. Canaccord Genuity Group reaffirmed a "hold" rating and issued a $2.00 price target on shares of Blend Labs in a research note on Wednesday, September 27th. Finally, Wells Fargo & Company lifted their price target on Blend Labs from $1.00 to $1.50 and gave the stock an "equal weight" rating in a research note on Thursday, August 10th. Five investment analysts have rated the stock with a hold rating and one has issued a buy rating to the stock. According to data from MarketBeat, the stock presently has a consensus rating of "Hold" and an average price target of $1.56.
Check Out Our Latest Report on Blend Labs
Blend Labs Stock Down 10.2 %
Blend Labs stock
opened at $1.23 on Wednesday. The stock has a market capitalization of $302.44 million, a PE ratio of -1.24 and a beta of 0.41. Blend Labs has a 12 month low of $0.53 and a 12 month high of $2.33. The business has a 50 day simple moving average of $1.23 and a 200-day simple moving average of $1.11. The company has a debt-to-equity ratio of 5.29, a current ratio of 8.87 and a quick ratio of 8.87.
Blend Labs (NYSE:BLND – Get Free Report) last posted its quarterly earnings data on Wednesday, August 9th. The company reported ($0.16) EPS for the quarter, beating analysts' consensus estimates of ($0.19) by $0.03. The business had revenue of $42.82 million during the quarter, compared to analysts' expectations of $39.98 million. Blend Labs had a negative return on equity of 258.77% and a negative net margin of 144.45%. On average, analysts anticipate that Blend Labs will post -0.63 EPS for the current fiscal year.
Insiders Place Their Bets
In other Blend Labs news, insider Nima Ghamsari sold 111,940 shares of the business's stock in a transaction on Friday, September 29th. The stock was sold at an average price of $1.37, for a total transaction of $153,357.80. The transaction was disclosed in a document filed with the SEC, which is accessible through the SEC website. 11.83% of the stock is currently owned by corporate insiders.
Hedge Funds Weigh In On Blend Labs
Several large investors have recently modified their holdings of the business. Royal Bank of Canada raised its holdings in shares of Blend Labs by 418.5% in the 1st quarter. Royal Bank of Canada now owns 6,009 shares of the company's stock valued at $34,000 after buying an additional 4,850 shares during the period. Quantbot Technologies LP purchased a new stake in shares of Blend Labs in the 1st quarter valued at $63,000. Walleye Capital LLC purchased a new stake in shares of Blend Labs in the 2nd quarter valued at $28,000. Hsbc Holdings PLC purchased a new stake in Blend Labs during the 3rd quarter worth about $28,000. Finally, Jasper Ridge Partners L.P. purchased a new stake in Blend Labs during the 1st quarter worth about $75,000. Institutional investors and hedge funds own 46.23% of the company's stock.
Blend Labs Company Profile
Blend Labs, Inc engages in the provision of cloud-based software platform solutions for financial services firms in the United States. It operates in two segments, Blend Platform and Title365. The company's Blend Builder Platform offers a suite of products that powers digital-first consumer journeys for mortgages, home equity loans and lines of credit, vehicle loans, personal loans, credit cards, and deposit accounts; and offers mortgage products to facilitate the homeownership journey for consumers comprising close, income verification for mortgage, homeowners' insurance, and realty.
Read More
Receive News & Ratings for Blend Labs Daily - Enter your email address below to receive a concise daily summary of the latest news and analysts' ratings for Blend Labs and related companies with MarketBeat.com's FREE daily email newsletter.