John Wood Group PLC (LON:WG – Get Free Report) has been given an average rating of "Moderate Buy" by the six analysts that are presently covering the firm, Marketbeat.com reports. Three analysts have rated the stock with a hold rating and three have assigned a buy rating to the company. The average 1-year target price among brokerages that have updated their coverage on the stock in the last year is GBX 212.33 ($2.62).
Separately, Canaccord Genuity Group upgraded John Wood Group to a "buy" rating and lowered their price objective for the stock from GBX 240 ($2.96) to GBX 225 ($2.78) in a report on Thursday, August 24th.
Read Our Latest Research Report on WG
John Wood Group Trading Up 1.3 %
WG stock
opened at GBX 154.70 ($1.91) on Tuesday. The company has a current ratio of 0.95, a quick ratio of 0.75 and a debt-to-equity ratio of 38.64. John Wood Group has a 12-month low of GBX 120.54 ($1.49) and a 12-month high of GBX 228.66 ($2.82). The stock has a market cap of £1.07 billion, a price-to-earnings ratio of -164.19, a PEG ratio of 0.33 and a beta of 1.62. The business's 50-day moving average is GBX 152.48 and its 200 day moving average is GBX 155.04.
Insiders Place Their Bets
In other John Wood Group news, insider David Kemp acquired 2,635 shares of the stock in a transaction that occurred on Thursday, September 21st. The stock was bought at an average cost of GBX 160 ($1.98) per share, for a total transaction of £4,216 ($5,204.30). Corporate insiders own 1.73% of the company's stock.
John Wood Group Company Profile
John Wood Group PLC, together with its subsidiaries, provides consulting, project management, and engineering solutions to energy and built environment worldwide. It operates through Projects, Operations, Consulting, and Investment Services segments. The Projects segment provides engineering design and project management services across energy and materials markets including oil and gas, chemicals, mining, minerals, and life sciences.
Featured Stories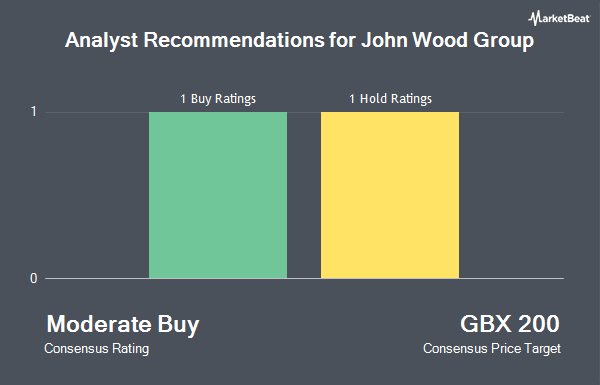 Receive News & Ratings for John Wood Group Daily - Enter your email address below to receive a concise daily summary of the latest news and analysts' ratings for John Wood Group and related companies with MarketBeat.com's FREE daily email newsletter.