Methanex Co. (TSE:MX – Free Report) (NASDAQ:MEOH) – Stock analysts at Zacks Research decreased their FY2025 earnings per share estimates for shares of Methanex in a research note issued to investors on Wednesday, November 8th. Zacks Research analyst R. Department now expects that the company will post earnings per share of $7.49 for the year, down from their prior forecast of $7.68. The consensus estimate for Methanex's current full-year earnings is $4.26 per share.
Separately, Scotiabank upgraded Methanex from a "sector perform" rating to a "sector outperform" rating in a report on Friday, October 27th.
Read Our Latest Research Report on MX
Methanex Stock Performance
Shares of TSE:MX opened at C$58.30 on Friday. The company has a market cap of C$3.93 billion, a P/E ratio of 15.93, a PEG ratio of 0.44 and a beta of 1.95. The company has a debt-to-equity ratio of 129.94, a quick ratio of 1.59 and a current ratio of 1.64. Methanex has a one year low of C$48.45 and a one year high of C$74.68. The business's 50-day simple moving average is C$57.67 and its 200 day simple moving average is C$57.32.
Methanex Company Profile
Methanex Corporation produces and supplies methanol in North America, the Asia Pacific, Europe, and South America. The company also purchases methanol produced by others under methanol offtake contracts and on the spot market. In addition, it owns and leases storage and terminal facilities. The company owns and manages a fleet of approximately 30 ocean-going vessels.
Read More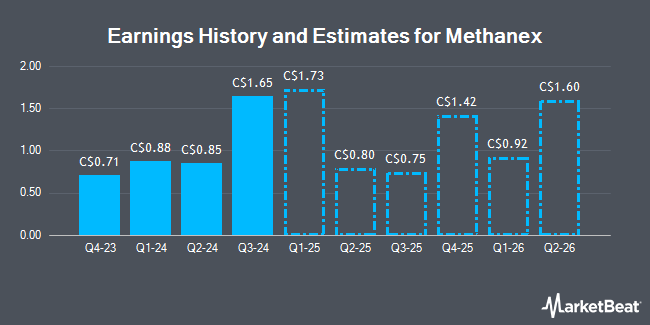 Receive News & Ratings for Methanex Daily - Enter your email address below to receive a concise daily summary of the latest news and analysts' ratings for Methanex and related companies with MarketBeat.com's FREE daily email newsletter.