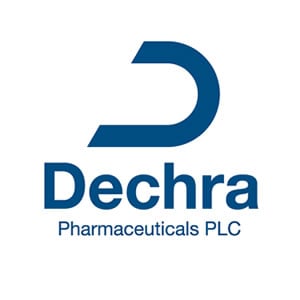 Dechra Pharmaceuticals PLC (LON:DPH – Get Free Report) passed above its 200-day moving average during trading on Monday . The stock has a 200-day moving average of GBX 3,708.37 ($45.54) and traded as high as GBX 3,794 ($46.59). Dechra Pharmaceuticals shares last traded at GBX 3,778 ($46.40), with a volume of 141,720 shares changing hands.
Dechra Pharmaceuticals Stock Down 0.1 %
The company has a quick ratio of 1.66, a current ratio of 2.85 and a debt-to-equity ratio of 66.80. The firm has a market cap of £4.30 billion, a P/E ratio of -15,112.00, a P/E/G ratio of 1.42 and a beta of 0.85. The business has a fifty day moving average of GBX 3,794.13 and a 200 day moving average of GBX 3,708.37.
Dechra Pharmaceuticals Company Profile
Dechra Pharmaceuticals PLC develops, manufactures, regulates, markets, and sells veterinary pharmaceuticals and related products for veterinarians. It operates through three segments: European Pharmaceuticals, North American Pharmaceuticals, and Pharmaceuticals. The company offers various endocrinology, dermatology, analgesia and anesthesia, cardiovascular, internal medicine, and nutrition products supporting cats and dogs with various therapeutic conditions, such as allergies, obesity, heart, and kidney diseases.
Recommended Stories
Receive News & Ratings for Dechra Pharmaceuticals Daily - Enter your email address below to receive a concise daily summary of the latest news and analysts' ratings for Dechra Pharmaceuticals and related companies with MarketBeat.com's FREE daily email newsletter.