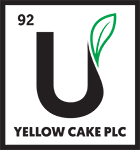 Yellow Cake plc (OTCMKTS:YLLXF – Get Free Report)'s stock price traded up 3% during mid-day trading on Wednesday . The company traded as high as $7.10 and last traded at $6.98. 6,233 shares traded hands during trading, a decline of 25% from the average session volume of 8,268 shares. The stock had previously closed at $6.77.
Wall Street Analyst Weigh In
A number of research analysts recently issued reports on the company. Liberum Capital downgraded Yellow Cake from a "buy" rating to a "hold" rating in a report on Wednesday, October 4th. Berenberg Bank upped their target price on Yellow Cake from GBX 550 ($6.75) to GBX 658 ($8.08) in a report on Tuesday, October 3rd.
Get Our Latest Research Report on YLLXF
Yellow Cake Trading Up 3.0 %
The business has a fifty day simple moving average of $6.60 and a two-hundred day simple moving average of $5.75.
About Yellow Cake
Yellow Cake plc operates in the uranium sector. It is involved in the purchase and holding of uranium oxide concentrates, and exploitation of other uranium-related opportunities. Yellow Cake plc was incorporated in 2018 and is headquartered in Saint Helier, Jersey.
Recommended Stories
Receive News & Ratings for Yellow Cake Daily - Enter your email address below to receive a concise daily summary of the latest news and analysts' ratings for Yellow Cake and related companies with MarketBeat.com's FREE daily email newsletter.