Acadian Asset Management LLC bought a new position in shares of X Financial (NYSE:XYF – Free Report) in the 2nd quarter, according to the company in its most recent 13F filing with the SEC. The firm bought 29,501 shares of the company's stock, valued at approximately $125,000. Acadian Asset Management LLC owned 0.06% of X Financial at the end of the most recent reporting period.
Other hedge funds and other institutional investors have also modified their holdings of the company. Susquehanna International Group LLP bought a new position in shares of X Financial during the 1st quarter worth approximately $99,000. State Street Corp raised its position in X Financial by 6.3% in the 1st quarter. State Street Corp now owns 87,308 shares of the company's stock valued at $241,000 after purchasing an additional 5,183 shares during the last quarter. Finally, AWH Capital L.P. bought a new position in X Financial in the 1st quarter valued at $1,036,000. Institutional investors own 1.36% of the company's stock.
X Financial Stock Performance
Shares of XYF opened at $4.42 on Tuesday. The stock has a fifty day moving average price of $4.01 and a two-hundred day moving average price of $4.08. X Financial has a 52-week low of $2.00 and a 52-week high of $5.00. The company has a market cap of $212.10 million, a price-to-earnings ratio of 1.39 and a beta of 0.61.
X Financial (
NYSE:XYF
–
Get Free Report
) last issued its quarterly earnings data on Monday, August 28th. The company reported $1.00 earnings per share (EPS) for the quarter. X Financial had a return on equity of 22.98% and a net margin of 27.89%. The firm had revenue of $168.30 million during the quarter.
X Financial Announces Dividend
The firm also recently disclosed a — dividend, which was paid on Wednesday, October 18th. Shareholders of record on Tuesday, September 19th were given a $0.30 dividend. The ex-dividend date of this dividend was Monday, September 18th. This represents a yield of 6%. X Financial's payout ratio is 2.78%.
About X Financial
X Financial provides personal finance services in the People's Republic of China. The company offers services as an online marketplace connecting borrowers and investors. Its loan products include Xiaoying credit loan, which consists of Xiaoying card loan; and Xiaoying preferred loan to small business owners, as well as Xiaoying revolving loan.
Further Reading
Want to see what other hedge funds are holding XYF? Visit HoldingsChannel.com to get the latest 13F filings and insider trades for X Financial (NYSE:XYF – Free Report).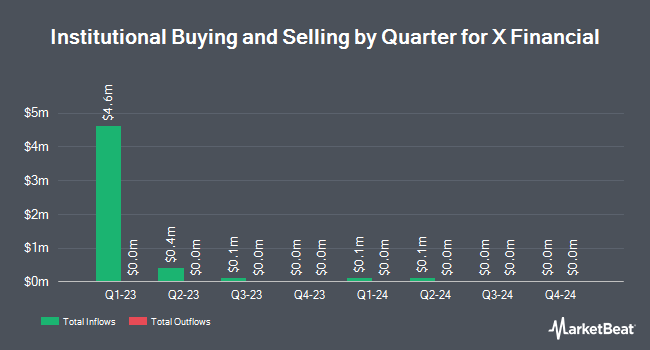 Receive News & Ratings for X Financial Daily - Enter your email address below to receive a concise daily summary of the latest news and analysts' ratings for X Financial and related companies with MarketBeat.com's FREE daily email newsletter.