NVR, Inc. (NYSE:NVR – Get Free Report) CEO Eugene James Bredow sold 1,500 shares of the firm's stock in a transaction dated Thursday, November 16th. The stock was sold at an average price of $6,292.47, for a total value of $9,438,705.00. Following the sale, the chief executive officer now directly owns 1,851 shares in the company, valued at approximately $11,647,361.97. The sale was disclosed in a document filed with the SEC, which is accessible through this link.
Eugene James Bredow also recently made the following trade(s):
On Thursday, November 2nd, Eugene James Bredow sold 687 shares of NVR stock. The stock was sold at an average price of $5,711.73, for a total transaction of $3,923,958.51.
NVR Stock Up 0.1 %
NVR stock opened at $6,307.12 on Tuesday. The company has a current ratio of 6.45, a quick ratio of 4.03 and a debt-to-equity ratio of 0.22. The company has a market capitalization of $20.06 billion, a P/E ratio of 13.27 and a beta of 1.04. NVR, Inc. has a twelve month low of $4,308.05 and a twelve month high of $6,525.00. The firm has a 50 day simple moving average of $5,910.02 and a 200-day simple moving average of $6,025.59.
NVR (
NYSE:NVR
–
Get Free Report
) last released its earnings results on Tuesday, October 24th. The construction company reported $125.26 earnings per share for the quarter, topping analysts' consensus estimates of $115.60 by $9.66. NVR had a return on equity of 41.75% and a net margin of 17.05%. The firm had revenue of $2.51 billion during the quarter, compared to the consensus estimate of $2.59 billion. During the same period in the prior year, the firm posted $118.51 earnings per share. The firm's revenue for the quarter was down 8.3% compared to the same quarter last year. On average, equities research analysts predict that NVR, Inc. will post 463.01 earnings per share for the current fiscal year.
NVR declared that its board has approved a share buyback plan on Wednesday, August 2nd that permits the company to repurchase $500.00 million in outstanding shares. This repurchase authorization permits the construction company to reacquire up to 2.4% of its shares through open market purchases. Shares repurchase plans are typically an indication that the company's leadership believes its stock is undervalued.
Institutional Inflows and Outflows
A number of hedge funds and other institutional investors have recently bought and sold shares of the company. Brighton Jones LLC bought a new stake in NVR during the 1st quarter valued at approximately $217,000. Cerity Partners LLC acquired a new stake in NVR in the 1st quarter worth $1,004,000. Inceptionr LLC bought a new position in shares of NVR during the 1st quarter worth about $947,000. Banco Bilbao Vizcaya Argentaria S.A. lifted its stake in shares of NVR by 4.1% in the first quarter. Banco Bilbao Vizcaya Argentaria S.A. now owns 632 shares of the construction company's stock valued at $3,522,000 after buying an additional 25 shares during the period. Finally, Van ECK Associates Corp grew its position in NVR by 3.6% during the first quarter. Van ECK Associates Corp now owns 552 shares of the construction company's stock worth $3,076,000 after buying an additional 19 shares in the last quarter. 84.49% of the stock is currently owned by institutional investors and hedge funds.
Wall Street Analysts Forecast Growth
A number of research firms have commented on NVR. Bank of America lifted their price objective on shares of NVR from $6,500.00 to $7,200.00 in a research note on Wednesday, July 26th. StockNews.com assumed coverage on NVR in a research report on Thursday, October 5th. They set a "hold" rating for the company.
Read Our Latest Stock Analysis on NVR
About NVR
NVR, Inc operates as a homebuilder in the United States. The company operates through, Homebuilding and Mortgage Banking segments. It engages in the construction and sale of single-family detached homes, townhomes, and condominium buildings under the Ryan Homes, NVHomes, and Heartland Homes names. The company markets its Ryan Homes products to first-time and first-time move-up buyers; and NVHomes and Heartland Homes products to move-up and luxury buyers.
Recommended Stories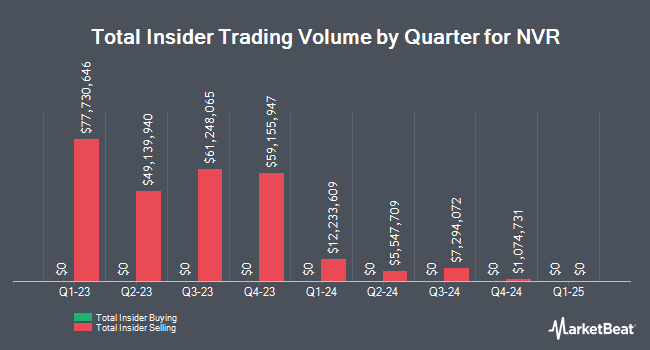 Receive News & Ratings for NVR Daily - Enter your email address below to receive a concise daily summary of the latest news and analysts' ratings for NVR and related companies with MarketBeat.com's FREE daily email newsletter.