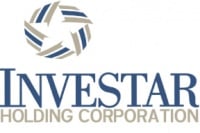 Investar Holding Co. (NASDAQ:ISTR – Get Free Report) crossed below its 50-day moving average during trading on Monday . The stock has a 50-day moving average of $10.71 and traded as low as $9.91. Investar shares last traded at $10.20, with a volume of 19,059 shares trading hands.
Wall Street Analysts Forecast Growth
Several analysts have weighed in on ISTR shares. Piper Sandler raised Investar from a "neutral" rating to an "overweight" rating and set a $13.50 price target on the stock in a report on Thursday, October 5th. StockNews.com started coverage on Investar in a research note on Thursday, October 5th. They issued a "hold" rating for the company. Finally, DA Davidson raised their price objective on Investar from $13.00 to $14.75 and gave the company a "neutral" rating in a research report on Monday, July 24th.
Check Out Our Latest Analysis on ISTR
Investar Trading Down 0.9 %
The firm has a 50-day moving average price of $10.71 and a 200-day moving average price of $11.89. The company has a debt-to-equity ratio of 1.45, a quick ratio of 0.94 and a current ratio of 0.94. The stock has a market cap of $99.55 million, a PE ratio of 4.62 and a beta of 0.59.
Investar (NASDAQ:ISTR – Get Free Report) last posted its quarterly earnings results on Thursday, October 19th. The financial services provider reported $0.33 earnings per share (EPS) for the quarter, topping the consensus estimate of $0.32 by $0.01. The firm had revenue of $34.80 million during the quarter, compared to analyst estimates of $19.96 million. Investar had a return on equity of 9.85% and a net margin of 16.43%. As a group, equities analysts anticipate that Investar Holding Co. will post 1.77 EPS for the current fiscal year.
Investar Dividend Announcement
The business also recently disclosed a quarterly dividend, which was paid on Tuesday, October 31st. Stockholders of record on Monday, October 2nd were issued a dividend of $0.10 per share. The ex-dividend date was Friday, September 29th. This represents a $0.40 annualized dividend and a dividend yield of 3.92%. Investar's payout ratio is 18.10%.
Insider Activity at Investar
In related news, Director Andrew C. Nelson acquired 3,000 shares of the stock in a transaction that occurred on Wednesday, November 1st. The shares were bought at an average price of $9.87 per share, for a total transaction of $29,610.00. Following the completion of the transaction, the director now directly owns 140,036 shares in the company, valued at $1,382,155.32. The acquisition was disclosed in a document filed with the Securities & Exchange Commission, which is available through the SEC website. Insiders have purchased a total of 6,607 shares of company stock worth $64,685 over the last quarter. Company insiders own 8.76% of the company's stock.
Institutional Inflows and Outflows
A number of hedge funds and other institutional investors have recently added to or reduced their stakes in ISTR. CWM LLC bought a new position in Investar during the first quarter valued at approximately $28,000. Copeland Capital Management LLC bought a new position in Investar in the second quarter worth approximately $30,000. UBS Group AG bought a new position in Investar in the third quarter worth approximately $31,000. NewEdge Advisors LLC raised its position in Investar by 79.1% in the first quarter. NewEdge Advisors LLC now owns 2,560 shares of the financial services provider's stock worth $36,000 after acquiring an additional 1,131 shares during the period. Finally, Citigroup Inc. bought a new position in Investar in the fourth quarter worth approximately $118,000. Institutional investors own 55.10% of the company's stock.
Investar Company Profile
Investar Holding Corporation operates as the bank holding company for Investar Bank that provides a range of commercial banking products to individuals, professionals, and small to medium-sized businesses in South Louisiana. The company offers various deposit products and services, such as savings, checking, money market, and individual retirement accounts, as well as various certificates of deposit; debit cards; and mobile banking services, as well as credit cards.
Featured Articles
Receive News & Ratings for Investar Daily - Enter your email address below to receive a concise daily summary of the latest news and analysts' ratings for Investar and related companies with MarketBeat.com's FREE daily email newsletter.